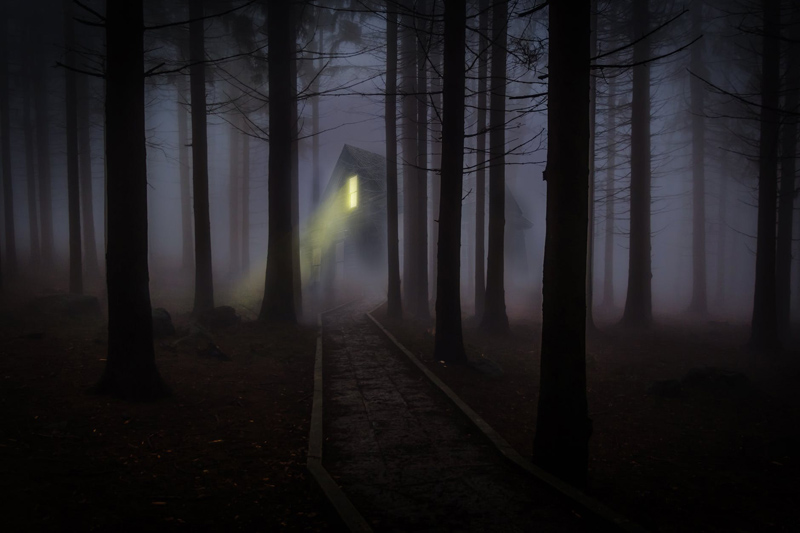 To modern eyes it looks like the work environment from Hades: two rows of closely packed young women manually connecting calls at a telephone exchange, but in The Blue Gardenia (1953) the operators are enjoying their post-war independence.

Norah, Crystal and Sally, share an apartment and Norah plans to spend her birthday evening there. Her soldier boyfriend is away in Korea, so she dresses up, opens champagne and settles down with a framed photograph of him, eager to read his latest letter. It's a 'Dear Jane' and poor Norah is devastated.

Harry Prebble is an artist who paints young women for the calendar market; it's a good career for a practised seducer like Harry. He calls the apartment hoping to follow up on the flirtation he started with Crystal earlier that day. Norah answers the phone and on impulse agrees to meet Harry at The Blue Gardenia restaurant. He primes the waiter to make the cocktails strong ones.

Norah wakes up hung-over and groggy, with little memory of the previous evening. She's shocked to learn that Harry Prebble has been found murdered at his home. Vaguely, she remembers picking up a fireplace poker when Harry tried to force himself on her. Norah is sure that she must be the murderer the newspaper has named for the flower found beside the body - The Blue Gardenia.

The movie has a stylish look and even its own song, The Blue Gardenia, performed at the restaurant by no less than Nat King Cole. The cinematography creates a good film-noir atmosphere, but the plot and direction conspire to make the movie more melodrama than noir. Director Fritz Lang (he went on the make The Big Heat) brings lightness into the mix with the semi-comedic angle of the three room-mates – which never evolves into shock or gritty reality - and the clue as to who murdered Harry is signposted with neon brightness very early in the story.

There is some quality acting to be found in The Blue Gardenia. Anne Baxter as Norah portrays all the emotions of her role – shock, disbelief, horror, fear – very honestly, although I did feel that the character might have been a better fit for an actress with a less mature and capable air. The part of Casey Mayo, a journalist who takes up the story in order to find The Blue Gardenia killer is played by Richard Conte. Though good looking and charming in the role, I felt that Conte was acting with only half his mind on his work; there seemed to be no great depth to his character.

By far the best thing about The Blue Gardenia is the performance of Raymond Burr as womaniser and cad Harry Prebble. Though he appears in relatively few scenes, Burr's involvement in his role is complete. His style is relaxed but he is fully present, and like the talented actor he was, he makes it all look effortless.

It's quite easy to put two and two together when watching The Blue Gardenia, so there is not much mystery, and it's also not the deepest of noir, but if taken more as a melodrama, it's an enjoyable, if undemanding, movie.



Note: I watched The Blue Gardenia on the Turner Classic Movie channel; it is also available to watch via Amazon Instant Video.



You Should Also Read:
Raymond Burr as Perry Mason


Related Articles
Editor's Picks Articles
Top Ten Articles
Previous Features
Site Map





Content copyright © 2023 by Grace Rostoker. All rights reserved.
This content was written by Grace Rostoker. If you wish to use this content in any manner, you need written permission. Contact Grace Rostoker for details.