Pork Green Curry with Kabocha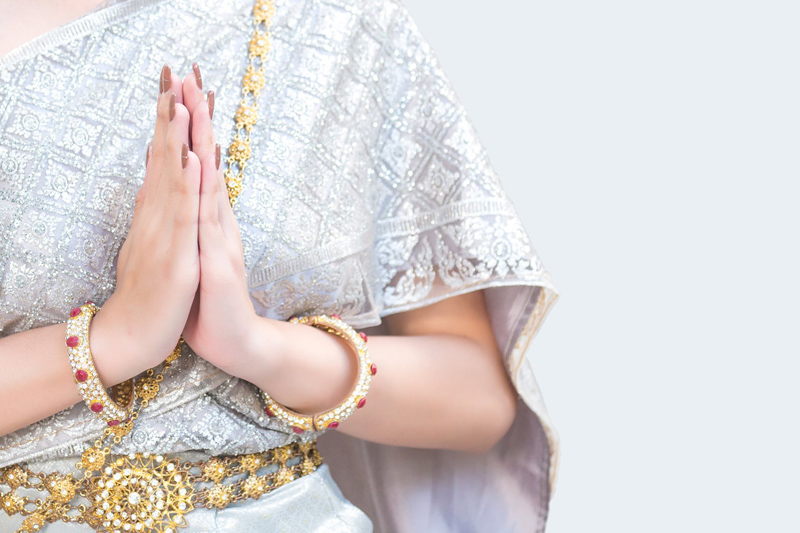 INGREDIENTS :
1 15 ounce can or fresh Coconut milk
4 tbsp. Green curry paste
1 1/2 pounds pork, 3/4" pieces
1 1/2 cups cubed kabocha squash (Japanese Pumpkin)
2-3 tbsp. Fish sauce (nam pla-use a good brand like Golden Boy)
1 tbsp. date palm sugar
Handful Thai basil leaves, (bai horapha)

rice vermecilli(khanom chin**) soaked in hot water for 20 minutes

Garnish:
Red Thai Dragon chile flowers*

Place hardened part (heavy cream) of coconut milk into pan over medium high heat, add the curry paste, fry while stirring until fragrant and it begins to separate.

Add the thinner part of the coconut milk to the curry paste and blend. Continue cooking and stirring until a gentle boil has been reached. Lower heat slightly, and add the cubed pork and kabocha. After the curry and pork return to a simmer cook until the pork is done and kabocha is tender to fork. Do not overcook!

Just before serving add the date palm sugar and fish sauce to taste. Also add the Thai basil leaves.

Garnish with chile flowers and a few basil leaves preferably with flowers.

Serve with steamed jasmine rice or with rice vermecilli(khanom chin**)

Notes:

Green curry is often considered the hottest of Thai curries. The saltiness and heat can be adjust by how much curry paste you add if using prepared pastes such as Mae Ploy and Mae Sri brands. The best green curry is the one you make yourself at home. You also can adjust the heat and saltiness to your taste.

As when making any curry adjust to your taste of balance hot-sweet-salty-sour.

* Chile flowers-holding chile by the stem carefully slit from below the stem to the tip, cutting into quarters, but DO NOT cut through the stem. Carefully remove the seeds from the chiles. Place the slit chiles in ice water with ice for 20-30 minutes. Watch them magically curl and become "chile flowers".

** Khanom Chin is a Thai rice noodle often eaten with Namya (curry soup made from minced fish or shrimps). Namya is a very popular inexpensive lunch dish in Thailand. Khanon chin is also eaten with beef curry or chicken curry for breakfast.




Related Articles
Editor's Picks Articles
Top Ten Articles
Previous Features
Site Map





Content copyright © 2023 by Mary-Anne Durkee. All rights reserved.
This content was written by Mary-Anne Durkee. If you wish to use this content in any manner, you need written permission. Contact Mary-Anne Durkee for details.