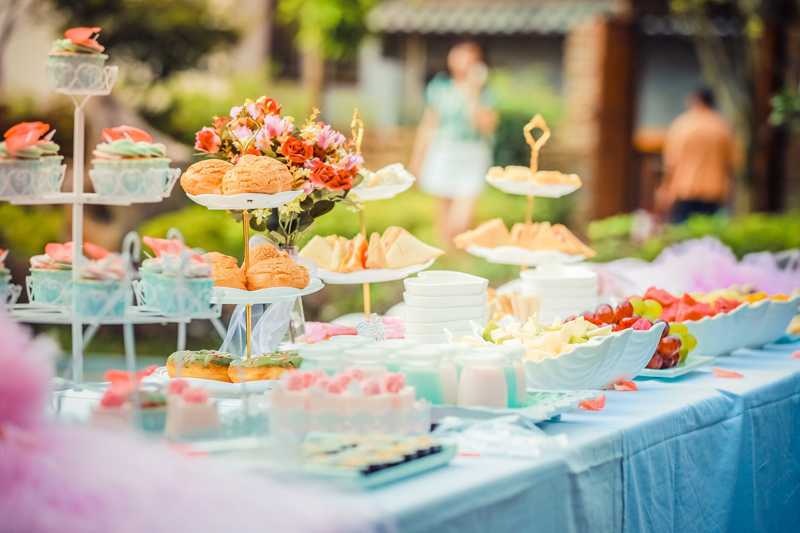 1. For a large party, you'll need a larger bird. A 15 to 20 pound bird would average out to be about 1 1/2 pounds for each person. Smaller birds, 12 pounds or less, have smaller meat to bone proportion, so allow 2 pounds per person.

2. If you're cooking a frozen turkey, plan ahead. The safest way to thaw a bird is in the refrigerator. It's too cold for harmful bacteria to grow. It takes about five hours per pound for a turkey to fully defrost (a 20-pound bird will take four days). For a faster thaw, submerge the bird in a cooler of cold water for 30 minutes per pound, changing the water every 30 minutes.

3. Once the turkey is thawed, start to prepare the turkey for roasting in the oven by first removing the giblets from both the breast cavity and the neck (some folks save these for gravy or stuffing). Next, rinse the bird inside and out and pat dry with paper towels. Set the turkey breast-side up on a roasting rack. This helps the meat cook faster and more evenly, and makes the skin brown and crisp.

4. If you plan to make stuffing to accompany your bird, cook it separately as turkeys roast more evenly if they're not packed full of stuffing. A handful of carrots, celery, onions and garlic or fresh herbs adds flavor without leading to dry meat. If you are planning to brine your turkey or inject it with a butter flavoring, do so prior to roasting it in the oven.

5. When roasting a turkey in the oven, the common method is 20 minutes per pound at 325 degrees. However, some factors like brining the bird, leaving the legs un-trussed or cooking with an empty cavity, will lead to much faster cooking. Plan on the 20-minute per pound rule, but start checking the temperature of your turkey about halfway through the scheduled cooking time to determine how fast it's cooking.

6. Although it may be tempting to peek in on your delicious turkey, once it goes in the oven, don't open the door too often. Every time you do, the heat drops quickly, so it'll raise both the cook time as well as the odds of a dry bird.

7. Once your bird is done roasting, cover it loosely with foil and let it rest about half an hour before carving. If you need more time to prep stuffing and sides you can let it rest for up to an hour without losing too much heat.

8. Finally the grand finale, time to carve the turkey! Carve your turkey with a sharp knife. Take the legs and wings off first (go straight through the joint) and you'll have more room to slice when you get to the breast.

Eating turkey on Thanksgiving Day is a staple of the holiday. Preparing the Thanksgiving Day turkey can be easy and fun. Save yourself time and follow these simple tips for cooking and serving your best turkey yet.



Related Articles
Editor's Picks Articles
Top Ten Articles
Previous Features
Site Map





Content copyright © 2023 by Shalia Hayes . All rights reserved.
This content was written by Shalia Hayes . If you wish to use this content in any manner, you need written permission. Contact Shalia Hayes for details.