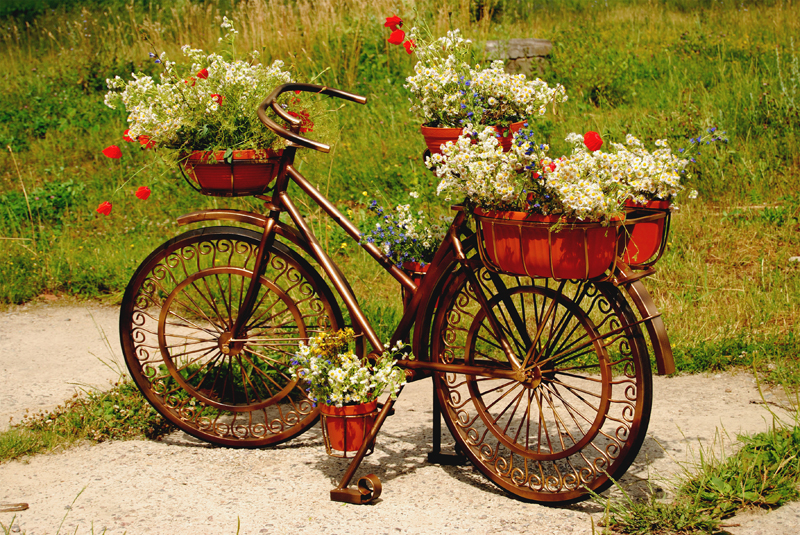 Garlic is great – and its reputation as a health food is well deserved. Anyone can grow garlic and should grow garlic and maybe they would grow garlic if they knew how to. There will be more about how to grow garlic in another article – this one is the overture, the prequel which covers why you should add this wonderful food to your container garden. Hopefully it will strengthen your resolve to grow some right away. So, here below are some interesting observations and a couple of recipes.

Why grow garlic – after all it is smelly?! Read on oh ye of little belief in what's good for them.

Garlic has been around for over 5000 years and is one of those venerated plants that comes to us with a rich history and a fine reputation. Ancient Egyptian kings were buried with garlic to wish them well on their journey to the afterlife.

It seems that the polysulphide allicin along with adenosine and ajoene found in fresh garlic that is responsible for its outstanding health benefits and that while all garlic plants have these healing properties, the amounts to be found in the garlic plant depends on soil, general growing conditions and climate. So, growing it in your way in an organic manner counts.

It may not help you to win friends and influence people (the smell of garlic is notorious), but it is a blood purifier, absorbs uric acid and is useful for high blood pressure. Garlic is beneficial in fighting all sorts of other health conditions too, including heart disease, cancer, diabetes and infections. It also has antiseptic properties and can be used for dressing external wounds.

Garlic is a natural antibiotic. Got a cold? Eat raw garlic for a couple of days – no need to chew the cloves, just swallow some small peeled ones whole and remember fresh and organic is best. Most garlic you can buy in the shops today has been 'nuked' for commercial reasons, so who knows how compromised the quality is – better grow and store your own!

But wait (as they say …) there's more!

There are several essential minerals found in garlic and all are vital to healthy living. Selenium, fluorine, iodine, iron, zinc, copper, magnesium and germanium (it stimulates the body's immune system). It also contains many sulphur compounds, vitamins A and C, various amino acids and fibre. That packs a heavyweight punch for sure.

What is Garlic?
It is almost unbelievable but there are some 450 types of garlic and they belong to the lily family.

Most people will have used garlic and will know that a mature head of garlic will fit in your palm, is surrounded by inedible papery skin and made up of individual cloves (5-9) attached to the root end. Just one clove when planted correctly will produce a whole head of garlic some nine months later … one has to admit, that's a pretty good return on any investment. It does very well in containers and has such a pungent scent, that if planted in the garden, it has been known to repel moles. I have a friend who has a vegetable patch the size of a large lounge. She grows garlic in between her vegetables to deter pests in general.

Using Garlic in the Kitchen.

A kitchen without garlic is a sad one indeed and there are so many uses for this little 'bulb' that whole cookbooks have been written about its culinary uses. Further, it is one of those 'must have' flavours that just makes a dish. There are Garlic Festivals all over the place – so look out for one near you and go and have some fun. Anything and everything that can be made with and from garlic has been made and is available for festival visitors to eat … even garlic fudge!

ROASTED GARLIC PASTE
This paste can be eaten as is (especially good with roast beef) or squeezed out of the skins and used anyway for cooking in general. It is good as a replacement for butter as a paste on bread rolls to be served with soup or you can use it as a base for making cocktail snacks. It's very tasty mixed into crème fraiche or sour cream and served over baked potatoes, or it makes a delicious addition to pasta dishes when mixed with parmesan or soft cheeses. Just season everything to taste.

It's silly easy to make. Please try.

Method:
Use a muffin tray to bake these in a preheated oven at 400F. Clean off the outer skins from the garlic heads but leave the individual cloves still attached and covered. Slice about ½ inch off the top of the bulb to expose the cloves (much like lopping the top off a boiled egg), put them into the muffin pan and drizzle each with olive oil. Cover with foil and bake until soft, about 30-35 minutes.

Remove and allow to get cold. Be careful here, a garlic burn is a mean one. Go ahead and serve them whole or use them for cooking. You can remove the skins individually before serving, but I think this is fiddly. I just squeeze out the garlic-now-paste and start anticipating yum results.

GARLIC AND WINE BASTE FOR FISH
This good for the barbecue season but it works at any time with firm-fish dishes. Double up on the recipe as you need to and use as it to baste the fish fillets while steaming (not frying), or add to fish fillets wrapped in foil on the barbecue.
Method:
Mix together 5tbsp. cooking oil, ½ cup dry white wine, 1 tbsp. fresh lemon juice, 1 tsp salt and freshly ground pepper to taste, 2-4 cloves crushed garlic and 1tsp brown sugar.

SAVOURY GARLIC BUTTER
Savoury butters are delicious served with all sorts of things which include beef, lamb, pork, chicken, fish and vegetables … but not icecream!
Method:
Beat ½ cup butter until soft, add 3-5 cloves of fresh crushed garlic and salt to taste and mix well. And that's it. The thing is that because it is so simple people tend not to bother, but please – this is one spot of bother that's worth it.

For a twist you can make a GARLIC AND HERB BUTTER by adding ¼ cup of finely chopped fresh herbs like rosemary, thyme, oreganum, marjoram and/or parsley. If adding herbs to the garlic butter, also add ¼ cup of freshly squeezed lemon juice for zing. Mix well.

If you are 'cooking ahead' then roll the butter into small 1½ inch wide 'sausages' and freeze. When ready to use, remove from the wrapping, roll the butter in lemon juice (or water) then roll in a bed of finely chopped parsley. Slice into medallions and serve … oh so posh!

They say to offset the odours of garlic eat parsley – another winner in the health and kitchen stakes!

What do you want your container garden to do?







Related Articles
Editor's Picks Articles
Top Ten Articles
Previous Features
Site Map





Content copyright © 2023 by Lestie Mulholland. All rights reserved.
This content was written by Lestie Mulholland. If you wish to use this content in any manner, you need written permission. Contact Lestie Mulholland for details.