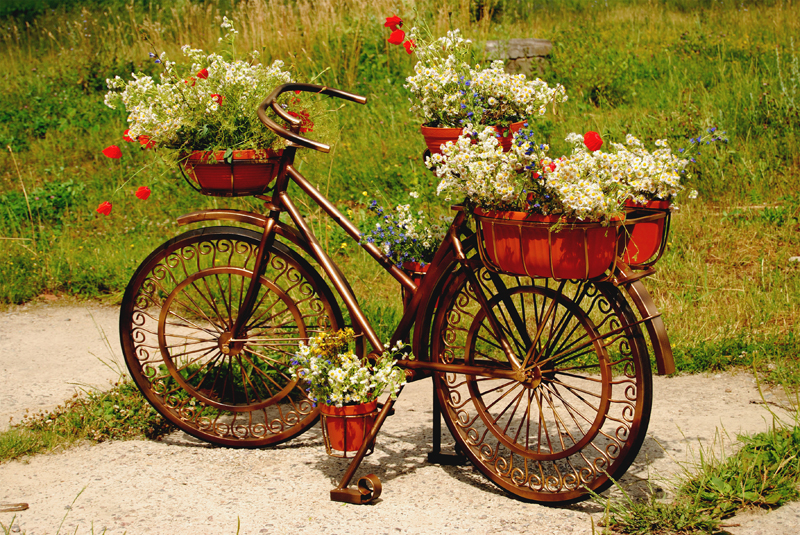 "There's nothing wrong with having a tree as a friend." Bob Ross

I agree. And I am pleased to tell you that I have a couple of faithful friends in my container garden, I talk to them all the time and I know they listen. Here in South Africa, Arbor Week is celebrated during the first week of September annually where, as elsewhere, we are enouraged to plant a tree for posterity. Arbor Day is observed on different dates globally to accommodate differing seasons and temperatures … but as spring has sprung in my part of the world our time to plant trees is now. This year I chose to plant a Japanese Maple and if you would like to try, please go ahead when your weather says yes and before you say no, read on.

To start. A question. Do you think your garden space (or patio or balcony) is too small for a tree? Think again because there are varieties very suitable for containers and you are sure to find one to befit your conditions.

Growing a tree is a commitment because the tree you choose will be with you for a long time, but it's the kind of commitment that is easy for a gardener. The joy you get though, will be worth all the effort that goes into caring for it, and speaking about care, here below are a few (possibly familiar and reminder) pointers for you which will ensure happy trees and a happy gardener – you!

*** Know all about your SPACE, and the sunshine quotient. Where will you place your tree? Will you want to move it round? Will you need to give it extra protection in the winter time? During the boiling summer? Is there an adequate supply of water nearby? Is there enough space?

*** Choose your CONTAINER with care. The kind of container chosen should suit the tree you pick and be big enough to accommodate the root ball of the mature tree. Trees are heavy so bear this in mind when considering place and space.

Ceramic (terracotta) pots are very good and as they are heavy too they will not blow over easily in the wind, but as they are porous, the plant will need watering more often. Plastic is easier to move around but may not provide enough protection to the roots in extreme temperatures.

*** Make sure there are ample DRAINAGE holes in your container. Raise the pot by using pot feet or bricks so that the water is free draining and the pot does not stand in water which can lead to root rot.

Air should be able to enter too and letting your pots sit flush with the ground will block the drainage and air holes. Before you put soil into the pots, cover the drainage holes with ceramic pot shards or stones as this will help drainge by not allowing the soil to build up and block the drainage holes after time.

*** As for all plants, use a good SOIL-based potting mix which is weed-free and friable. Mix in your own soil enhancers as you can, I always add bone meal to everything plus compost and some slow release fertiliser granuals, usually half a dose as you don't want too much extra growth.

Annually, around spring time, refresh the soil by removig the top six to eight inches and replace with compost and fertisliser granules as above. The bone meal lasts for a long time and at least until you repot your tree

*** Watering
Your soil should retain water well even though your cotainer have good draiage holes. Trees in containers dry out more quickly so you need to keep the soil moist at all times by WATERING regularly and often enough for your weather conditions. Hot and windy? Watch out.

Mulch helps retain moisture and also keeps soil temperatures constant. For trees, I suggest natural MULCHES like peanut shells or bark rather than pebbles which may get too cold overnight or too hot during the day for the roots.

*** Repotting
Signs to look out for which will suggest that you should repot will include roots growing out of the drainage holes or bulging out the top of the pot. The tree may also look sad, lack energy and may flop around a bit even though the watering is fine. Have you ever tried to walk around in shoes too small? You have? Then you know what it feels like!

Depending on your choice of tree or how fast it is growing you will need to repot it at least once. I cheat a bit here and choose a pot around six inches bigger (larger than most experts suggest) and then let my tree settle in for the long term (renewing top soil every spring). REPOTTING is not a job for one person only – so get some help from a neighbour or friendly garden shop service who will come to your home.

When repotting, use fresh soil in your new pot as if you are starting from scratch.
If you are repotting into the same pot (because the tree is just the right size for you) then you will need to prune the roots. Shake any excess soil off the roots and using sterilized, sharp secateurs clip off the bottom quarter to a third of the roots, common sense rules here. Replace the tree in the pot, make sure to plant it at the same level it was before and spread the newly-pruned roots around your half-filled pot before replacing the rest of the fresh soil to the top, tamping it down to hold the tree well in place. Of course, you must water well.

*** Choosing Trees
Small tree and dwarf varieties of large trees are good CHOICES and are available at most nurseries and garden centres. Because growing trees in containers is popular there is a wide choice of both deciduous and evergreen trees for you.

Remember that by default, growing a tree in a container means that size will be restricted.

Fruit trees do well in containers and in general, you should look for trees that can establish a full root system within the limits of your container size and soil availability. A regular watering schedue is important.

*** Good trees for Containers – fine focal points for your patio or balcony design.
Here below are some suggestions for small trees that can be grown successfully in containers. They have been chosen because they are easy to grow and give much pleasure and most important of all – they suit containers and small spaces!

Indian laurel (Ficus microcarpa vr. Nitida)
Japanese Maple (Acer palmatum)
Brush Cherry (Syzygium paniculatum)
Lemon tree (different types, choose the lemon you prefer to eat)
Magnolia (Magnolia grandiflora 'little gem') 1128

Your enviroment and your lifestyle will benefit greatly from having a tree or two nearby. The emotional value is welcome as they offer serenity and calm in our fast-paced life. Even though they're in containers, our imaginations include all the characteristics of trees in a garden as we watch those in our pots grow … we feel their strong roots, their shade and their statement of security in nature.

Planting a tree is just right action, and it's a positive and hopeful thing to do.

What do you want your container garden to do?

You Should Also Read:
Lemon Trees in Containers
Topiary Containers
Espalier - How to Trellis a Tree


Related Articles
Editor's Picks Articles
Top Ten Articles
Previous Features
Site Map





Content copyright © 2023 by Lestie Mulholland. All rights reserved.
This content was written by Lestie Mulholland. If you wish to use this content in any manner, you need written permission. Contact Lestie Mulholland for details.