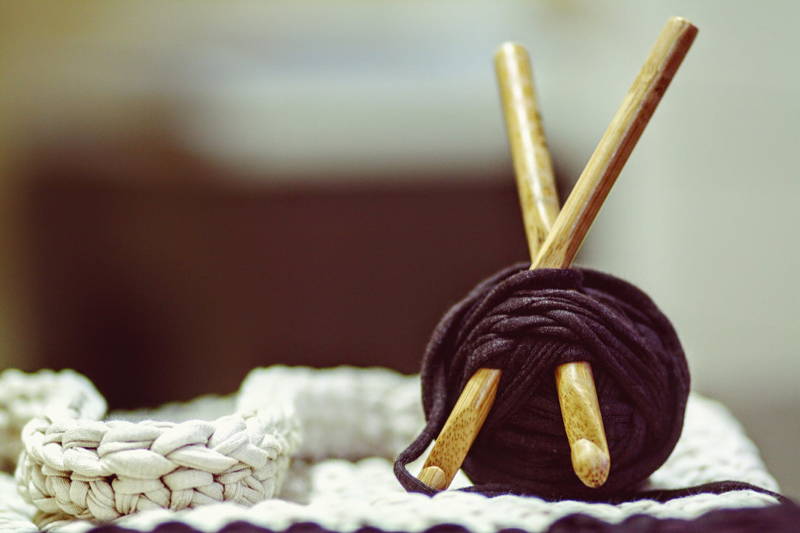 Who doesn't want to make a living doing what you love? When I was contemplating starting a crochet business, I was the only person in my immediate circle who crocheted. I wished I had someone experienced to give me guidance as I figured out how to turn my beautiful hobby into a revenue stream for my family.
Lori from EcoSoles runs a successful crochet business, and if you're thinking of starting a crochet business, or even if you're in the thick of things, she's got wisdom to share. I thoroughly enjoyed her answers, and I hope they'll add value to you in your crochet and business journey!
Tell me about yourself and what inspired you to start your business.
My sweet Granny taught me the craft of crocheting when I was 5. I remember how relaxing it was and how good it felt to have wool pass through my fingers. Oddly enough, I put my hook down and didn't pick it back up until about 4 years ago. I filled my time with designing, creating and handcrafting numerous items with recycled leather that have been available in different shops throughout Vancouver, British Columbia. Once I became a mom, I craved picking up that hook and I haven't looked back.
I love the heritage you're keeping alive! What is it like to see your design ideas become a reality as a maker? What's your process for coming up with new designs?
It is so satisfying to see and feel the end result of a design. My inspiration comes from pretty much everything from a flower or a bird to paint swatches or pictures in magazines. My favorite though is when customers choose their own colors. The design always turns out more beautiful than expected and it feels so personal. I imagine a soft smile as someone puts on their new slippers and forgets that they are wearing them because they are so comfortable.
That is the true test of a good slipper: whether you forget they're even there! You work with premium quality materials. Why did you choose that niche?
I love using other fiber-artist's products such as a multi colored hand spun wool, it is like going on a trip. As the wool flows through your fingers and the colors and the texture changes, I feel the heart and beauty that the other artist has put into their craft. It is really hard to explain how it makes me feel. It is pure enjoyment. Plus the thought that my customers in their own way are captivated by these materials is again very satisfying while leaving the design a limited edition.
That is such a beautiful experience! It's like you're creating in community. Speaking of creative communities, you sell on Etsy. Why did you choose to go with them?
I have two small children therefore I do not have very much time to set up a website yet. I have heard great things about Etsy in regards to exposure. It is user friendly, has great support and you are able to view your shop activity to help to keep yourself motivated.
You have beautiful photos of your work. Do you do your own photography, or do you have other means of getting product shots? Any photography advice?
I have been very fortunate to have another Maker friend Katy Biele whom has given me tips on taking photos. I have learned that taking your time is essential. Short cuts usually do not work. Take the time to build your back ground, keep it simple, use natural light and don't be afraid to play with angles.
What's your advice on pricing structure for crochet makers? Any advice on wholesaling?
Pricing is the hardest hurdle to jump for makers. It takes a long time to make things by hand. Then you have to consider tagging, photos, posting, emails, research, and the list goes on. Deciding to wholesale was a very good decision for me as stores do marketing, advertising and posting on the internet for you. Your exposure goes up and it will eventually create direct orders that come right to you. Stores expect to pay 1/2 of your retail price, so you need consider this when pricing. Don't forget market research. I decided to price my designs on the lower end of similar products for many reasons. I want sales, I want my products affordable (especially with the additional shipping costs) and I want my customers to be happy with their purchase.
Wow. You've shared so much thoughtful advice on some of the big issues and decisions crochet business owners face. What's your best piece of life wisdom for someone who wants to turn their skill into a profitable business?
Don't give up! It can be discouraging during slower times of the year but it is a blessing as now you have time to make inventory, work on your online store, take tones of fun photos and for me, garden. Remember, if you want to turn this into a business, you will be doing way more things that may not be as much fun as getting cozy with tea and crocheting.
Check out Lori's work at
ecosoles.etsy.com
You Should Also Read:
Maker Profile - Akinz
Maker Profile - Leah & Stitch


Related Articles
Editor's Picks Articles
Top Ten Articles
Previous Features
Site Map





Content copyright © 2023 by Holly Messenger Aamot. All rights reserved.
This content was written by Holly Messenger Aamot. If you wish to use this content in any manner, you need written permission. Contact Holly Messenger Aamot for details.