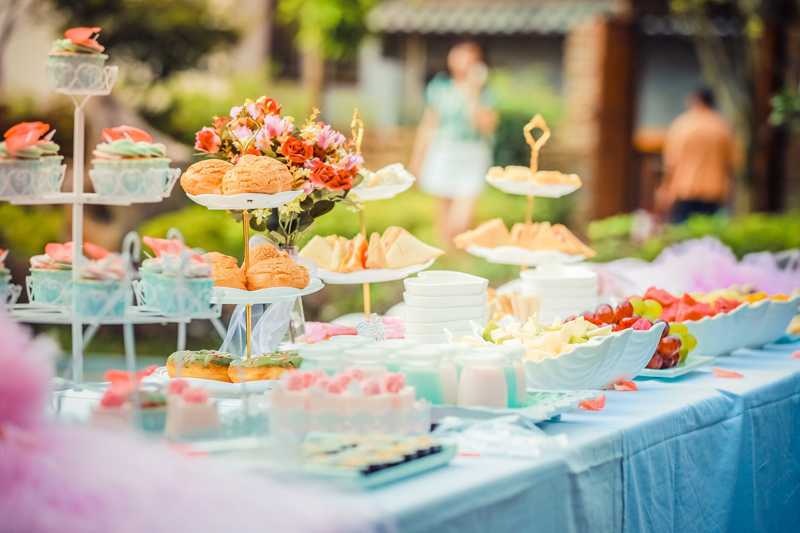 A few simple ingredients are easily combined to make great salads ready to serve at your next party. Try the following salad ideas.

Tomato Avocado Salad

2 ripe avocados, peeled and sliced
2 large tomatoes cut into wedges
1 medium onion, cut into wedges
1 cup of Italian salad dressing
Lettuce leaves (optional)

In a large bowl, combine the avocados, tomatoes and onions. Next, add the Italian dressing and stir to coat. Chill for 20 to 30 minutes prior to serving. You may choose to serve this salad over lettuce leaves, or keep it as is. This salad is not only good for you, but boasts a colorful palate and is great to serve year round.

Hawaiian Salad

This salad adds a refreshing taste to any party menu. It boasts a tropical flair that's simple to prepare. Your guests will empty the bowl!

1 can (8 ounces) pineapple tidbits
6 to 8 cups chopped salad greens
1 cup shredded cheddar cheese
½ cup of mayonnaise
1 tablespoon of sugar

Start by draining the pineapple, reserving 1 tablespoon of the juice. In a large bowl, combine the salad greens, pineapple tidbits and topping with the shredded cheese. In a small bowl combine the mayonnaise, sugar and reserved pineapple juice, mix well and pour over the salad, tossing to coat. This salad is best when served immediately.

Strawberry Asparagus Salad

¼ cup lemon juice
2 tablespoons vegetable oil
2 tablespoons honey
2 cups fresh asparagus (1 inch pieces)
2 cups sliced fresh strawberries
In a small bowl, combine the lemon juice, oil and honey and mix well and set aside. Cook the asparagus in a small amount of water for about 3 to 4 minutes, until they are crisp and tender, drain and cool. Arrange the asparagus and strawberry slices in individual bowls, and drizzle with the lemon juice, oil and honey dressing. The dressing is light, and the vivid combinations of the red and green is a real eye pleaser.

Black Bean Salad

2 cans (15 ounces each) black beans, rinsed and drained
1-1/2 mild salsa
2 tablespoons minced fresh parsley

This salad pairs nicely with chicken or Mexican main dishes. To prepare, combine all the ingredients in a bowl and chill for 15 minutes prior to serving. A fast and tasty salad for your guests!

Salads are a great side dish to any main entrée. Try these simple and refreshing salad ideas for your next party.

You Should Also Read:
Joy of Salads
Super Summer Supper
Spinach-Bacon Salad


Related Articles
Editor's Picks Articles
Top Ten Articles
Previous Features
Site Map





Content copyright © 2023 by Shalia Hayes . All rights reserved.
This content was written by Shalia Hayes . If you wish to use this content in any manner, you need written permission. Contact Shalia Hayes for details.