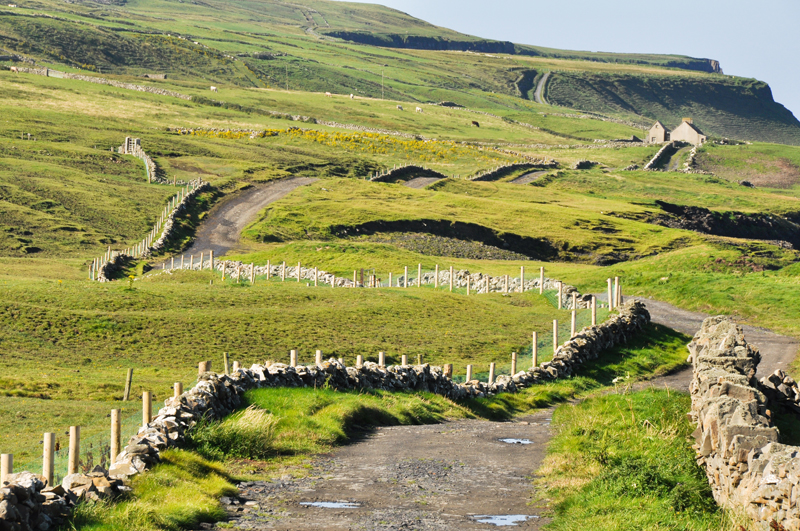 A trip to Ireland is an ideal holiday no matter where you´re coming from.
5 Reasons to Visit Ireland in Fall


September is probably my favorite month in Ireland and it is not entirely because I arrived in the month of blackberries, rainbows and startling angles of light.
A Goddess Tour of Ireland

Ireland is often referred to as the 'body of the goddess.' Little wonder then, that many visitors to Ireland are interested in planning a tour with the Goddess as the main feature of the itinerary.
An Irish Garden

Gardens in Ireland are found in every form and place imaginable. From dramatic formal gardens to pots on a windowsill...
Belfast Castle

If Belfast is a must see, don´t miss Belfast Castle!
Belfast Fine for Tourists

There´s a welcome for visitors in Belfast. Visit, enjoy, and tell them to put on the kettle---we´ll be over.
Blarney Castle

Blarney Castle is more than just a stone..
Bunratty Castle

County Clare is home to one of Ireland´s greatest attractions.
Celebrating Yeats

Yeats Day is celebrated on June 13th. 2015 marks this literary giant's 150th birthday. While there are celebrations throughout 2015, this June will be especially ebullient.
City of Saints and Scholars

Dublin may be the capital of the the Republic of Ireland and Belfast the capital city of Northern Ireland. But the city of saints and scholars, Armagh, is the ecclesiastical capital of Ireland.
Dublin for Free

Irish Culture lovers will be pleased to find that Dublin has a host of things to do and see that are free.
Every Day is Earth Day in a Global Geopark

Happy Earth Day! It's Earth Day every day in a Global Geopark. Ireland has three UNESCO designated Global Geoparks in recognition of the international importance of both the natural heritage and built heritage.
Four Best of Connaught

Cromwell's 'to hell or Connaught' quote is overly harsh on what I consider some of the loveliest landscape in Ireland. And the people are really friendly, too! Here's my four 'besht of the wesht.'
Four Best of Ulster

While the six counties of Northern Ireland were part of the ancient kingdom of Ulster, these days Donegal, Cavan and Monaghan are the Ulster counties in the Republic of Ireland. Here are my four favorites from these three.
Four of Best of Munster

In the second of the series looking at Ireland's ancient kingdoms to delineate regions, we look southward to Munster, which includes the Republic's two other large cities - Cork and Limerick.
Ireland's Lake District

Ireland's lake offer sporting opportunities and scenic beauty to 'just' revel in whether you are on a boat or ashore. But two counties vie for consideration as Ireland's Lakeland. It's a close tie with Fermanagh and Cavan.
Irish Castles

Do you prefer you castles to be ruins or to be refurbished into a luxury hotel or conference center? Virtually every county in Ireland can offer you an example of each kind of castle.
Irish Heritage Week

The final week of August sees many free events all over Ireland as we celebrated Heritage Week. While this is week's events are aimed at 'backyard tourism' or 'staycationers', overseas visitors can also benefit from the wealth and variety of events around the country.
Naturist Tourists in Ireland

Ireland is probably not what many would consider the natural venue to host an international conference of nudists. Yet the 34th International Congress of Naturists met in Ireland's most sparsely populated county for their annual meeting.
The Antrim Coast Road

The Antrim Coast Road is one of the best known "scenic drives" in Ireland,taking in much of the North-Eastern coastline---including a very close up view of the Giant´s Causeway and on up into the Glens of Antrim.
The Four Best of Leinster

Over the next four weeks we will highlight the must see and do in each of Ireland's four ancient kingdoms - Leinster in the east, Munster to the south, Connaught in the west and Ulster to the north. Here are four of the best of Leinster.
The Irish Weather

The Irish weather is always with us. This article includes some tips for navigating the variations of Irish weather. If you are preparing for a trip to Ireland you might want to avail yourself of my advice.
The Island of the White Cow

This is a book review of Deborah Tall's classic memoir of her time living on Inishbofin, the isle of the white cow, during the 1970s. She records a vanishing way of life with great tenderness and evokes it with the lyricism of a poet.
Tips for Planning Your Trip to Ireland

Traveling with a multi-generational group? Or a diverse group of friends? Here are some tips for mediating everyones' wishes when planning a trip to Ireland. The current exchange rate on the euro is galvanizing many to plan a trip to Ireland.
Walking in Irish Wonderland

In a Fáilte Ireland survey in 2013, it was discovered that walking and hillwalking are the most popular activities for overseas visitors to Ireland.
Wrong Way on the Round 'About

Driving in Ireland is tough for tourists who aren´t familiar with driving on the "wrong" side of the road. A new signage scheme that uses only the Gaelic place name promises to complicate matters further.
Editor's Picks Articles
Top Ten Articles
Previous Features
Site Map
Content copyright © 2018 by . All rights reserved.
This content was written by . If you wish to use this content in any manner, you need written permission.
Contact Bee Smith for details.