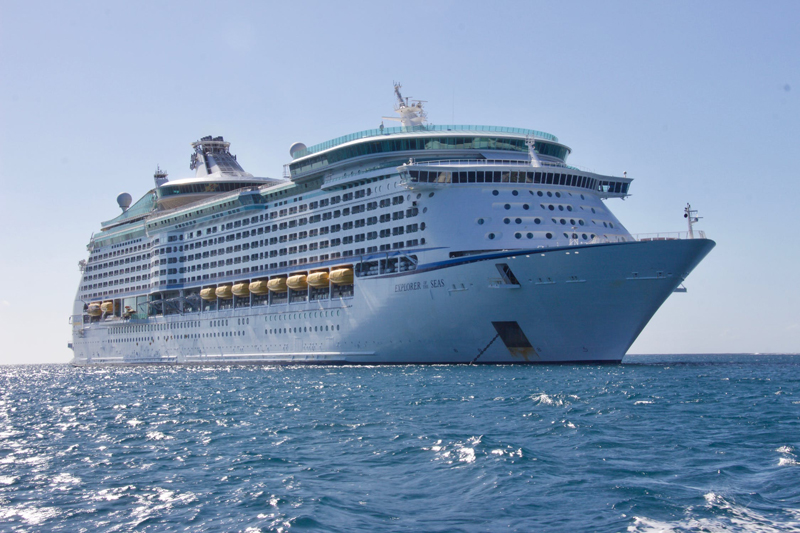 The secret to a great, stress-free cruise is having the right resources and planning in advance. Learn how to save money on your next cruise, eliminate problems, and make your vacation the best ever.
10 Great Tips For Your European Cruise

It's easy to see why European cruises are so popular this year. European destinations offer a rich tapestry of cultural, adventure and learning experiences for travelers of all ages. If you're planning to take a cruise vacation in Europe, here are ten great tips to help you prepare for your trip.
10 Fun Things To Do in Tampa Florida

Located on Florida's Gulf coast, the Tampa Bay area offers attractions for all ages including theme parks, beautiful beaches, historic areas, and superb museums. The area comprises three popular vacation spots: Tampa, Clearwater and St. Petersburg. Here are ten great things to do in Tampa Bay.
10 Great Christmas Markets In North America

Holiday river cruises provide guests with the opportunity to visit Christmas markets in some of Europe's historic cities and charming towns. If you'd like to sample the holiday markets experience closer to home, visit one of these top ten North American Christmas markets for a taste of the magic.
10 Great Things To Do In Seattle

Seattle is an exciting vacation destination with much to see and do. The greater Seattle region contains a number of popular attractions and places to explore, which makes the area appealing to all ages and interests. Here are ten of the best things to do in Seattle during your stay.
10 Tips For First Time Cruisers

For many first-time cruisers, planning a cruise vacation can seem a bit overwhelming. There are lots of details and choices involved. If you're planning your first cruise vacation, check out these ten great tips.
10 Tips For Planning A Future Cruise With Kids

Cruises can be appealing vacation choices for family travelers seeking lots of activities, fantastic entertainment and attractions for all ages, and exciting ports of call. If you're thinking about taking a future cruise vacation with kids, here are ten tips for planning a great family cruise.
10 Tips For Planning An Amazing Alaska Cruise

Alaska cruises are one of this year's hottest vacations. On these spectacular cruises, guests can view Alaska's stunning scenery and incredible wildlife while taking part in amazing adventures and bucket-list experiences. Here are ten great tips for planning an awesome Alaska cruise.
10 Top Things To Do Around Port Canaveral, Florida

Located on Florida's Atlantic coast, Port Canaveral is one of America's most popular cruise ports. It's a favorite embarkation choice for vacationers spending time at Florida's theme parks and a convenient drive-to homeport as well. Here are ten great things to do around Port Canaveral, Florida.
10 Ways To Save On Your Next Cruise Vacation

Cruises can be a superb vacation value, particularly if you take the time to shop carefully. There are a number of great resources and approaches that will help you save money and get an amazing cruise vacation deal. Here are ten top ways to find bargains and save money on your cruise vacation.
5 Bucket List Cruise Experiences

In today's world, the emphasis is on collecting extraordinary experiences rather than things. This is particularly true for ardent travelers. If you're in the market for an exceptional cruise vacation filled with lifelong memories, put these voyages at the top of your bucket list.
5 Great Places To Get Salmon On An Alaska Cruise

Many Alaska cruise guests look forward to sampling Alaska's famed local seafood on their cruise vacation. Freshly-caught wild salmon is often the seafood of choice. If you're planning your Alaska cruise activities, here are five great places to get delicious freshly-caught salmon on your vacation.
5 Reasons To Cruise With Your Favorite Brand

Many cruise guests enjoy vacationing with brands they know and love. Brands add value and today's travelers are increasingly attracted to these kinds of experiences. Here are five reasons why cruising with your favorite brand can create memorable moments and add so much to your vacation.
5 Ways To Add Disney World To Your Cruise

Cruising and Walt Disney World go hand-in-hand, especially for vacationers who love the Disney parks and characters. It's easy to add a trip to Walt Disney World to your cruise out of Florida or from ports along the Eastern Seaboard. Here are five ways to add Walt Disney World to your next cruise.
5 Ways To Plan An Awesome Culinary Cruise

Cruise vacations offer a wide range of appealing dining and culinary options, both on land and at sea. In fact, culinary experiences are ranked as one of the top aspects of a cruise vacation. If you want to turn your cruise vacation into a true culinary experience, here are five suggestions.
7 Appealing Aspects of European River Cruising

River cruising is a leading travel trend according to recent surveys. Travel experts expect the strong growth in river cruising to continue and it's easy to understand why. Here are seven appealing aspects of river cruising to consider when comparing this experience with an ocean cruise vacation.
7 Best Grand Turk Shore Excursions

Grand Turk is one of the top rated ports of call on Eastern Caribbean cruise itineraries. Cruise guests typically fall in love with Grand Turk's stunning white sand beaches, superb water sports and the island's laid-back vibe. Here are seven of the best Grand Turk shore excursions to consider.
7 Great Things To Do In Fort Lauderdale

Fort Lauderdale, Florida is home to the Port Everglades cruise port. This vibrant city has 23 miles of beautiful beaches, making it one of America's top vacation destinations as well. If your vacation plans include a visit to Fort Lauderdale, here are seven great things to do during your stay.
7 Great U.S. All-Inclusive Family Vacations

Many cruise-loving parents assume that the best family all–inclusive vacations are located outside the United States, but that's not the case. There are a number of great options. If you're looking for a U.S. all-inclusive property for your next family vacation, check out these seven suggestions.
7 Money Saving Tips for Your Next Trip

Travelers often drive to their vacation destination, whether it's a land-based holiday or a cruise embarkation point. Costs can mount up on driving trips and overnight stays, however, so it's important to plan ahead. Here are seven money-saving tips that will help cut costs on your next trip.
7 Reasons To Cruise Solo

Cruising alone can be an incredible experience. Although many vacationers shy away from traveling alone, taking a cruise by yourself can be a wonderful way to get some well-deserved "me time" to spend just the way you would like. Here are seven great reasons to cruise solo on your next vacation.
7 Reasons To Take A Canada Cruise

Canadian Maritimes cruises are spectacular. These scenic sailings offer exciting shore excursions and experiences to match a wide range of interests. Cooler temperatures can make these itineraries appealing as well. Here are seven great reasons to consider taking a Canada cruise this year.
7 Things To Do Before Your International Vacation

International vacations require a bit more advance preparation than other trips. There are a number of things that need to be done in order for travels to go smoothly. Here are seven things to do in advance if you're planning an international trip.
7 Tips For An Awesome Cruise With Teens

Cruises are a popular vacation choice for families with teens. Today's cruise ships are filled with teen clubs, thrilling attractions and high-energy activities. If you're planning to take a cruise with teens, here are seven tips to make your family cruise vacation the best ever.
7 Tips For Handling Flight Delays

Choosing the right flights for trips is always key. It's even more critical when planning a vacation, since missing your flights can eliminate sought after vacation days and result in significant added expenses. Here are seven flight planning tips that will help get you avoid airline delays.
7 Tips For Taking Great Travel Photos

Vacations and road trips offer so many incredible moments and experiences. It's easy to treasure travel memories for a lifetime with outstanding vacation photographs. If getting great vacation pictures is important to you, here are seven tips for taking the best photos ever on your next trip.
7 Tips For Your Norwegian Fjords Cruise

Norway is a scenic paradise filled with extraordinary places to explore. Seeing Norway's magnificent fjords by water provides the best possible experience, which is one of the many reasons Norway cruises are so popular. Here are seven great tips to help you plan your Norwegian Fjords cruise.
7 Ways To Avoid Wasting Money On Cruises

Vacationers often work hard to save money and get the lowest cruise fares possible. However, it's easy to spend money needlessly once you've booked your cruise. It's essential to consider any added purchases carefully. Here are seven ways to avoid wasting money and save big on your next cruise.
8 Great Things To Do In Montego Bay

Cruise ships often visit Montego Bay, Jamaica on Western Caribbean voyages. Visitors can enjoy a wide variety of experiences here, from active adventures to chill relaxation. If your Caribbean cruise includes spending time in Montego Bay, here are eight great things to do during your visit.
9 Best Excursions In Ketchikan Alaska

Ketchikan is a popular port of call on Alaska cruises. Ketchikan offers a wide variety of active, historic, and nature-oriented tours and activities, so plan ahead to make the most of your day. If you're taking an Alaska cruise, here are nine fantastic Ketchikan shore excursions to consider.
9 Great Ways To Save For Your Vacation

If you're thinking about your next vacation, it's important to start saving money now to make your travel dreams come true. There are so many ways to put together money for your next trip. Some may seem small, but they can add up to big savings. Here are nine great ways to save for your vacation.
A New Look For Family Cruise Vacations

Family vacations have changed over the years, particularly family cruise vacations. Cruise lines have come to understand that families are vacationing differently than in the past. Here are some of the new attractions and amenities being offered to cater to families and exceed their expectations.
Choose A Cruise With French Flair

Many of today's cruise vacationers are seeking immersive travel experiences, allowing them to fully experience the destinations they visit. If you're seeking a small ship European cruise experience, check out this international cruise line offering voyages with a distinctive French flair.
Choosing The Right European Cruise Experience

Cruising in Europe can be a highly personalized experience with proper planning. It's important to think about your goals for your European vacation and the kinds of memories you want to make. If you're planning a European vacation, here are five great cruise experiences to consider for your trip.
Choosing The Right Ship For A Short Cruise

Short cruises are perfect for today's vacationers. These 3- to 5-day sailings depart from a wide variety of U.S. and European ports, making them easily accessible. When planning a short cruise, it's important to pick the ship and itinerary that best fits your needs and interests.
Coming Back To Jamaica

Cruises offer guests the opportunity to sample a number of Caribbean islands and then return to their favorites for a longer visit. While it's hard to get to know an island in such a short time, one can get a sense of its people. That's one reason why cruise passengers often return to Jamaica.
Cruising To Puerto Vallarta

Puerto Vallarta is one of the loveliest cruise ports on Mexico's Pacific Coast. This colonial city has magnificent architecture, great shopping, and excellent opportunities for tours and adventures. In addition, this tropical oasis is a watersports mecca with activities to match every interest.
Cruising With Young Children

Cruising is an excellent choice for a family vacation, even for families with little ones ages six months and older. Cruise line offerings for young children vary substantially, however. Parents must carefully research their options and choose a ship that will maximize their vacation enjoyment.
Do Machu Picchu Your Way

When travelers think of journeying to Machu Picchu, most think of hiking the Inca Trail. This classic hike over a period of several days takes trekkers through the Peruvian Andes. There are other alternatives, however, that open the Machu Picchu experience up to a wider range of vacationers.
Eight Cool Things To Do In Juneau Alaska

Juneau is one of the major ports of call on Alaska cruise itineraries. Alaska's capital offers an extensive array of activities and attractions including soft adventure tours, flightseeing trips, culinary experiences and wildlife watching. Here are eight great things to do in Juneau, Alaska:
Escape The Cold On A Short Winter Cruise

Looking for an inexpensive way to escape winter's chilly temperatures? A 3- to 5-night cruise may be the answer. These cruises depart from a variety of U.S. ports, sometimes eliminating expensive flights. In addition, their comparatively low cost can make them an excellent winter vacation value.
Find The Key To A Great Post-Cruise Escape

Thinking about combining a cruise from Miami with a relaxing pre- or post-cruise getaway? Drive to the Florida Keys for a few days and enjoy its beautiful resorts, nature-oriented attractions and exciting ecotours. If you're planning to visit, here are five great things to do in the Florida Keys.
Five For Fun In The Florida Keys

Thinking about combining a cruise from Miami with a relaxing pre- or post-cruise getaway? Head to the nearby Florida Keys. This chain of islands is known for its nature-oriented attractions, expansive coral reef for snorkeling and diving, soft adventure opportunities, historic sites and more.
Five Resources For Planning Your Day in Port

There are a number of excellent resources available to help plan your days in each cruise port of call. Using these will help you to get the most out of your cruise experience and save money as well. Research your ports of call far in advance of your cruise, as popular tours can sell out quickly.
Five Tips For Baltic Family Cruises

Many parents take their children on Mediterranean cruises, but Europe's Baltic region is a gem as well. Baltic cruise itineraries allow families to experience a enchanting cities with unique cultures and historic past. Here are five tips to help you plan a great Baltic family cruise vacation.
Five Ways To Guarantee Satisfaction On Your Cruise

Taking a vacation to somewhere new can be stressful, but many travelers are interested in trying out new destinations and different cruise ships. Careful planning can make the difference in guaranteeing a fun cruise holiday. Here are five things to do to ensure that you'll enjoy your next cruise.
Get Away On A Short Cruise Vacation

Looking for an inexpensive vacation escape? A short cruise may be just the answer. These cruises depart from a wide variety of U.S. and international ports, eliminating expensive flights and making these vacations very convenient. Learn more to see if a short cruise getaway is right for you.
Get Out On The Water In Magnificent Maine

Maine is one of the most naturally beautiful areas in the world, with over 3500 miles of rugged coastline and thousands of lakes to explore. It's the perfect place to get out on the water on one of the state's gorgeous bays and lakes. Here are some superb options for an idyllic Maine vacation.
Getting The Small Ship Experience On A Budget

Many cruise passengers are attracted to small ship cruises. These smaller vessels can often go to pristine spots where large ships can't travel. The price tag for these cruises, however, can be more than some can afford. Here are five tips to get the feel of a small ship experience on a budget.
Give The Gift of Wonder This Year

During the festive season, family members and loved ones go on an extensive quest for the perfect holiday gift. Research shows most Americans prefer immersive experiences and making memories with loved ones instead of things, so why not give loved ones the gift of wonder-filled travel this year.
Music Cruises Hit a High Note

Theme cruises are popular with today's cruise vacationers. These events give guests an opportunity to hear their favorite stars in concert and meet other fans with the same interests. A new alternative allows music lovers to cruise and have the same concert experience at a fraction of the cost.
Plan A Bermuda Cruise This Year

Bermuda cruises are very popular this year, so start planning now. This stunning island is well known for its beautiful pink sand beaches, turquoise seas, exciting water sports, active adventures and historic attractions. Cruises are a great value-oriented way to explore Bermuda as well.
Plan A Festive Holiday Getaway This Year

Celebrate the season with a fun-filled holiday escape this year. Holiday-themed cruises and attraction-filled parks and resorts are fantastic choices for a fun-filled holiday vacation or a pre-holiday escape. Get in the spirit of the season and check out these great ideas for your holiday getaway.
Plan A Last-Minute Thanksgiving Cruise

As Thanksgiving draws closer, thoughts turn toward planning a festive holiday celebration. Since families are living farther away from each other than at any time in history, sometimes it's easier to meet on a Thanksgiving cruise. Great last minute deals are available, too. Here are six tips.
Plan A Post-Holiday Cruise Escape

As the holidays draw to a close and the New Year begins, thoughts often turn to taking a post-holiday vacation to relax and de-stress. There's good news for those dreaming of taking a post-holiday escape to the tropics. Cruises during post-holiday time periods can often be quite inexpensive.
Plan An Exciting Caribbean Escape

Many vacationers seek out upscale land-based mega-resorts loaded with a wide variety of restaurants, activities and entertainment. There's no need to be land-locked any more, however. Some of today's ships offer same type of stellar, high energy mega-resort experiences at sea.
Plan An Extraordinary Cruise Getaway

For the most memorable cruise vacation experience, choose a ship that's packed with great restaurants, bars, entertainment and attractions. Some of today's top ships offer a wide array of amenities, making the ship an outstanding vacation destination. Pick a ship with something for everyone.
Preparing Credit Cards for Travel

Credit cards can be one of the safest ways to pay for items while you are traveling. If you are counting on using credit cards for the bulk of your purchases on your trip, there are a few things you should know. Here are some tips for making sure your credit cards are ready for travel.
Purchasing Travel Insurance For Your Vacation

When hurricanes and other travel issues develop, vacationers often start thinking about changing their travel plans. Those who have purchased travel insurance may be protected, depending upon the specific coverage offered by their policies. Here are some key tips for purchasing travel insurance.
Sail Away To These Idyllic U.S. Islands

Vacationers are searching spectacular U.S. destinations where they can escape the crowds, rejuvenate and relax. Some of the nation's most unspoiled island vacation spots are easily accessible by boat or ferry. When you need a break, sail away to one of these beautiful islands in the United States.
Save Big On Future Hotel Stays

Many avid travelers are dreaming about traveling and are starting to plan their future vacations. Now is a good time to score great hotel deals for upcoming trips. If you're planning on booking a hotel or resort as part of a future trip, here are ten tips to help you save big your next hotel stay.
Start Planning Your Next Holiday Family Getaway

If you're dreaming of getting away for the holidays, you're not alone. Many parents and grandparents would like to take the family on a holiday vacation. There are so many great options from which to choose. Here are some tips and ideas to help you start planning your next holiday family getaway
Take A Last Minute Summer Cruise Escape

If you're thinking of planning a last minute summer getaway, consider taking a cruise. Cruises can will take you to beautiful tropical beaches or perhaps somewhere even more exotic, often at low last minute fares. Here are five tips to help you uncover great last minute summer vacation deals.
Take A Tropical Island Escape

If you're dreaming of swaying palm trees and beautiful beaches, start planning your next tropical island trip. Small ship cruises and ferry itineraries make it easy to reach spectacular unspoiled spots. Here are five best bucket list destinations that should be at the top of your vacation list.
Taking A Cruise Volunteer Vacation

If you're looking for an opportunity to give back on your next vacation, think about combining community service with a cruise. A number of cruise itineraries are well-suited for cruising on a mission, since ships visit many ports where schools and other community organizations need help.
Tips for Orlando Pre- and Post-Cruise Stays

If you're planning a to combine a vacation in Orlando with a cruise leaving from Port Canaveral, there are many ways to stretch your travel dollars. Here are 10 great budget-saving travel tips help you find deals, save money, and get the most out of your Orlando pre- or post-cruise vacation.
Visit Havana On Your Next Cruise

Located just 90 miles from the United States, Cuba is one of today's most exciting destinations for vacationers. Cruises to the island make it an easy-to-reach Caribbean vacation destination. Visitors to Cuba can experience its cultural treasures, historic sites and vibrant music and arts scene.
Volunteer Before Or After Your Next Cruise

Volunteering on cruise vacations is growing in popularity with cruise guests. There are many ways to make a difference, from giving back at sea, in ports of call, or pre- or post-cruise with organizations in U.S. cities. Check out these options for volunteering in four leading U.S. home ports.
Weatherproof Your Next Tropical Cruise

Vacationers often start checking the weather forecast for their Caribbean cruise weeks before their trip, no matter what the season. Lack of sunshine can be a worry, but there's no reason to stress if you've planned correctly. Weatherproof your vacation by choosing the right ship for your cruise.
What To Expect On Christmas Markets River Cruises

The holidays are a special time to take a European river cruise. These sailings are a stress-free way to experience a number of European cities and Christmas markets in a rather short time. If you're considering taking a European Christmas markets river cruise, here are 11 things to keep in mind.
Editor's Picks Articles
Top Ten Articles
Previous Features
Site Map
Content copyright © 2018 by . All rights reserved.
This content was written by . If you wish to use this content in any manner, you need written permission.
Contact Nancy Schretter for details.