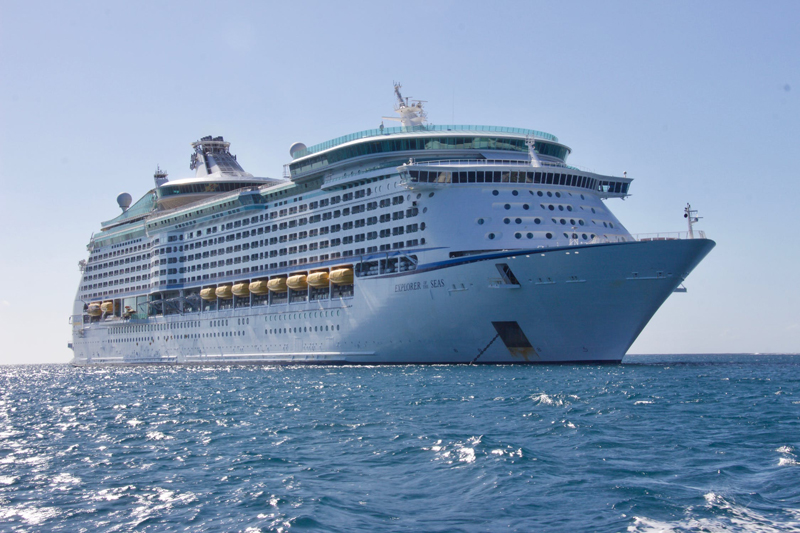 Cruises for every budget and every personality.
10 Reasons To Take A River Cruise

River cruising is one of today's top travel trends according to recent travel industry surveys. Having the opportunity to authentically explore Europe's enchanting postcard-perfect towns and cities is highly appealing today's vacationers. Check out these ten great reasons to take a river cruise.
10 Tips For Family Cruise Planning

Stressed about taking your next family cruise? Advance planning can make it easier and much more enjoyable. Here are ten tips to help make your next family cruise the best vacation ever.
10 Tips for Great Multigenerational Cruises

Cruises are a very popular choice for multigenerational vacations and family reunions. Today's cruise ships offer something for everyone, both young and old. If you're planning a multigenerational family cruise, here are ten tips for making your vacation a smooth and successful experience.
10 Tips For Your European River Cruise

European river cruises are more popular than ever. These relaxing vacations take guests into the heart of Europe to visit charming villages, historic sites and beautiful cities. If you're planning a European river cruise vacation, here are ten tips to help make your trip even more enjoyable.
5 Memorable Multigenerational Vacations

Many families are taking multigenerational vacations that offer opportunities to bond and make lifelong memories together. If you're looking for a great multigenerational vacation in the United States, here are five popular options with attractions and activities for every age group and interest.
5 Tips For Norwegian Fjords Family Cruises

Norwegian Fjords cruises are popular with families. Parents and kids will find spectacular scenery, exciting attractions and great activities in every port of call. If you're thinking about taking a Norwegian Fjords family cruise, these five tips will help you plan a great Norway family vacation.
5 Unspoiled Places To Explore By Water

Want to go to places most travelers have never seen? You're not alone. Vacations to unspoiled destinations are growing in popularity. These spots are filled with beautiful beaches, gorgeous scenery, wildlife and opportunities for adventure. Here are five great places to discover on your next trip.
7 Great Cruises For Wine Lovers

Wine cruises are growing in popularity. These sailings offer outstanding wine-themed experiences in spectacular settings. Wine lovers have many options from which to choose, including wine-themed river cruises and ocean sailings. Check out these seven top cruise vacation options for wine lovers.
7 Misconceptions About River Cruising

River cruising is one of today's most popular travel trends. Many vacationers haven't experienced this wonderful form of travel yet, perhaps due to a number of misconceptions. It's important to debunk these myths, as river cruising can be one of the best ways to see Europe in comfort and style.
7 Reasons To Take An Adventure Cruise

For today's active travelers, exploration and adventure is a key part of their best vacations. Small ship cruises can be a great way to take an active adventure vacation in some of the world's most pristine destinations. Check out these seven reasons to take a small ship cruise adventure vacation.
7 Tips For A Memorable Foodie Cruise

Many avid travelers view dining and culinary experiences as one of the best parts of their cruise vacation. Today's foodies are seeking new and innovative dining options. If your dream cruise features a wide variety of memorable culinary experiences, here are five important tips to keep in mind.
7 Tips For Planning A Great Holiday Family Cruise

Cruises are a fantastic choice for holiday family vacations. Today's cruise ships feature great kids and teens clubs, thrilling family-friendly attractions and lots of cool activities. If you're planning a holiday family cruise vacation, here are seven tips to make your family's trip the best ever.
8 Great Holiday Light Shows

Get in the holiday spirit this year while enjoying a drive-through festive light show. These fun experiences feature millions of holiday lights, colorful displays, beautifully decorated Christmas trees, and more. Here are 15 of the best holiday light shows located throughout the United States.
8 Reasons To Take A Christmas Markets River Cruise

Cruising along Europe's waterways during the Christmas markets season is a great way to get into the holiday spirit, combining a tantalizing blend of culture, cuisine and festive events. If you're considering taking a European Christmas markets river cruise, here are eight great reasons to go.
Add Peru To Your Vacation Itinerary

Cruises and destinations in South America are topping many active vacationers' travel bucket lists this year. From Galapagos cruises to Machu Picchu treks, the lure of South America is strong. For those flying south, Peru is a country that shouldn't be missed. Here are five of Peru's top options.
Baltic Cruises Are Popular With Leisure Groups

While Mediterranean voyages have been popular choices for leisure group travel, Baltic cruises are now being added to the bucket list. These sailings included visits to unique destinations and ports of call with historic and cultural significance, making them a great choice for leisure groups.
Celebrate The Season On A Christmas Markets Cruise

European Christmas markets river cruises are a special way to celebrate the holiday season. These enchanting cruises provide guests with the opportunity to experience Christmas markets in Europe's most charming cities. Here are ten great reasons to take a European Christmas markets river cruise.
Commonly Asked Questions About Family Cruising

Cruising is a popular vacation option, but many parents wonder if a cruise will be right for their family. Here are answers to frequently asked questions on this topic to help you determine if a family cruise vacation is a good choice for your crew.
Courses and Camaraderie: Learning at Sea

Educational cruises are very popular these days, and it's no wonder. Extraordinary things happen when a group of like-minded people get together on the high seas – especially when it involves learning together.
Cruises And Adventures In Glacier National Park

The scenery in Glacier National Park is some of the most beautiful in the world. Many visitors are not aware of the park's many cruising opportunities. Boat cruises on Glacier's lakes are one of the best ways to see some of the park's large glaciers. Opportunities for adventure abound as well.
Cruises and the Solo Traveler

Solo cruise information from BellaOnline´s Independat Travel Editor.
Cruising Off The Grid

Many Americans aren't getting away from work when they go on vacation. It can be difficult to get away, even when you're taking time off. Sometimes, however, a forced respite from the stresses of work is just what's needed. Here are seven reasons to take an off the grid cruise vacation.
Cruising With A Purpose

Some cruise vacationers want to do more than bask on a beach and play in the ocean. They want to make real connections and do something that makes a difference for people and communities in need. Finding the right vacation option with opportunities to give back in a sustainable manner is key.
Dancing Theme Cruises Are A Winner

Theme cruises are more popular than ever, as vacationers look for ways to combine their interests with the cruise experience. Holland America Line and ABC's "Dancing with the Stars" have joined forces to create dancing theme cruises. These themed sailings have proven to be a hit with guests.
Explore Cuba On Your Next Cruise

Cuba is an enticing destination for vacationers. Visitors to this Caribbean island can experience its cultural treasures, historic sites and vibrant music and arts scene. Vintage cars and hand-rolled cigars add to the mix. Here's how to visit Cuba on your next cruise.
Explore Your Special Interests On A Theme Cruise

Upscale theme cruises are some of today's most popular enrichment vacations. These small ship voyages offer additional programming such as educational talks, themed activities, entertainment and hands-on learning sessions. Here are five reasons why these small ship theme cruises are so appealing.
Family Cruises


Are you ready for a family cruise adventure?
Family Fun Is On The Horizon

Family vacations are even more exciting when everyone gets together at sea. To meet the expectations of this changing vacation market, today's top cruise ships must offer a wide variety of programs and amenities for every interest and age group. That way, everyone can find their own brand of fun.
Five Awesome Family Cruise Experiences

Today's families and multigenerational travelers want to make lifelong memories and share special places with their children and grandchildren. Family cruise vacations deliver these kinds of incredible experiences. Here are five unforgettable family cruise vacations to put at the top of your list.
Five Ferry Trips To Fabulous Places

Many of today's travelers are looking for destinations where they can escape, rejuvenate and relax. Luckily enough, some unspoiled vacation spots in the United States are easily accessible by ferry. Here are five beautiful locations where it's easy to get away from the crowds and recharge.
Five Great Family Enrichment Cruises

A growing number of parents and grandparents are seeking opportunities to show their children the world and make lifelong memories while learning together. Here are five of the best enrichment cruise options that enable families to experience different cultures and bond while exploring the globe.
Freedom For Everyone On Family Cruises

Choosing the right destination can make or break a family vacation. It's critical to pick a venue that provides something that every family member will enjoy. With differing travel styles, it's also key to build in opportunities for freedom. Family cruise vacations fit the bill perfectly.
Get Away On A Festive Christmas Week Cruise

If you're looking for a great Christmas week vacation, get away on a holiday cruise. Holiday cruises from close-to-home ports are a great value, often taking guests to tropical beaches for less than the cost of round-trip air alone. So book now and enjoy a festive Christmas week vacation at sea.
Giving Back On A New Orleans Cruise

Travelers often want to give back on their vacation, but also need to relax and rejuvenate on their time away from work. Cruises can work well for this kind of trip. Here's a good cruise-based volunteer vacation itinerary for those who are interested in giving back on their next vacation.
Graduation Celebration Cruises

Some families commemorate high school graduations with a milestone family celebration - creating memories to last a lifetime. The event can also double as a learning experience, helping teens to discover more about our world. Ecoventura's new Galapagos graduation celebration cruises do both well.
Great Learning Cruise Vacations

A growing number of cruise passengers are seeking out opportunities to see the world and explore their interests at the same time. Educational cruises offer guests the chance to learn at sea - either alongside experts ashore, in a floating classroom setting, or both. Here are seven top options.
Music Cruises Take An Innovative Twist

Music fans who love to cruise have an array of exciting options. A cruise entertainment series is bringing the hottest names in music to shipboard theaters for live concerts. Best of all, these experiences come with a price tag that is well within the budget of the average cruise passenger.
Plan A Memorable Alaska Multigenerational Cruise

Multigenerational families are venturing to a wider variety of destinations and Alaska is often at the top of their bucket list. Cruising is a great way to experience Alaska, particularly for multigenerational groups. If you're planning a multigenerational voyage to Alaska, here are seven tips.
Planning A Great Girlfriends Getaway Cruise

Girlfriend getaways are growing in popularity with today's travelers. These types of trips are a great chance for women to relax and reconnect - and cruising is often a top vacation choice. Here are seven planning tips to help make your girlfriends getaway cruise a "let's do it again" success.
Save On Last Minute Summer Cruise Vacations

It's not too late to start planning your summer vacation. Cruises are a great last minute vacation choice, as there's relatively little planning involved. All you have to do is show up and enjoy your trip. Here are seven tips to help you find some great last minute summer cruise vacation deals.
Special Interest

There is a cruise for everyone from wine connoisseurs to bird watchers.
Taking the Kids on an Enrichment Cruise

Want to learn and experience the world with your children? Look at the Institute for Shipboard Education's Enrichment Voyages. These cruises allow parents and children to travel together, learn about different cultures, and enjoy unique educational opportunities aboard their floating campus at sea.
Test Drive A Christmas Markets River Cruise

Holiday river cruises provide guests with the opportunity to visit Christmas markets in some of Europe's historic cities and charming towns. If you'd like to sample the holiday markets experience closer to home, visit one of these top North American Christmas markets for a taste of the magic.
Tight Budget, Short Cruise, Great Vacation

Need a quick getaway to relax and unwind? If your budget and vacation time are limited, a short cruise may be the perfect answer for your vacation needs. Short cruises are an excellent match for seven types of vacationers. Find out if this type of cruise experience is right for you.
Two New Seashores Perfect For Family Fun

It's not often that great new places for family vacations debut. In this case – it's not just one destination, but two. Check out these two new options for memorable family vacations.
Weddings

Cruises are classic for having a shipboard wedding or a long, romantic honeymoon. Here are some suggestions and things to keep in mind when planning a romantic cruise.
Editor's Picks Articles
Top Ten Articles
Previous Features
Site Map
Content copyright © 2018 by . All rights reserved.
This content was written by . If you wish to use this content in any manner, you need written permission.
Contact Nancy Schretter for details.