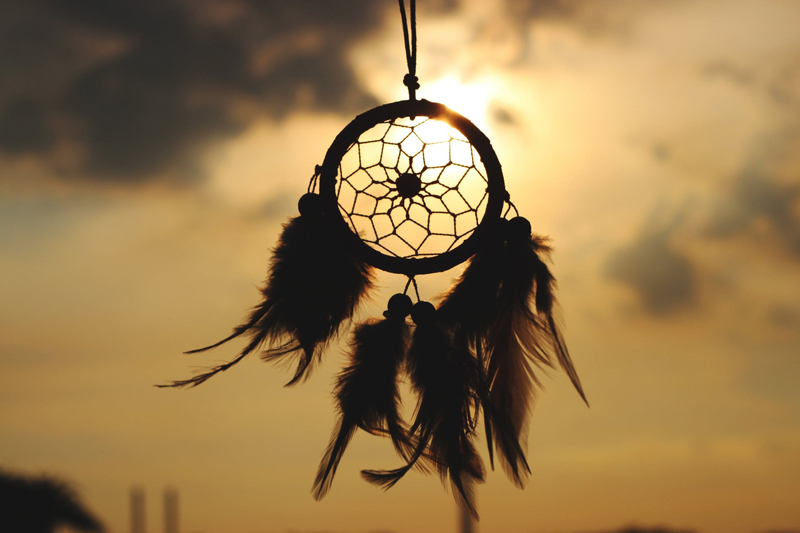 Articles on traditions, customs, and worldview.
All Life Is Sacred; Treat All Beings With Respect

Our Traditional worldview was one based upon the acceptance that we are sacred beings placed upon a nurturing Mother planet, by an all-powerful and loving Creator. How can we use this traditional framework or philosophy to help us travel along the path of peace in the ego-dominated world of today?
Ancestral Suffering

Too many of us carry a burden of shame and worthlessness that has nothing to do with who we truly are. Just as an ancient hatred possesses the power to infiltrate generations, so too does the power of bondage. We connect ancient reactions to the soul wounds of today.
Apsaalooke Flag

Flags symbolize a nation or country and can be inspirational in design. The official flag of the Crow Tribal Nation is a fine example. The Apsaalooke flag has a sky blue background with the official Tribal seal in the center. The flag bears much symbolism and reveals a proud history.
Crow Fair Today

Today, the identity of the Crow People is strengthened through the reunion of tribal clans as well as traditional dances and rodeo.
Diabetes in Indian Country

Native Americans suffer from the highest rates of diabetes than any other race. Ultimately, knowledge is power and through this we can create a healthy pathway for the future generations that follow after us.
Dream Catcher

In North America it would be hard to find someone, of any age or background, who is not familiar with the object known as a Dream Catcher. These familiar objects can even be found in Dollar Stores across the continent and come in all colors of the rainbow.
Harvest Moon Acorn Squash Recipe

Some Ancestors celebrated harvest time with prayerful ceremonies, giving thanks and praise to the Creator. In the spirit of appreciation and thanksgiving, here is a toasty sweet treat to enjoy with loved ones under a beautiful harvest moon!
Idle No More - The Battle Cry of First Nations

New voices cry out the same messages our Ancestors cried out centuries ago. Today, the voices of First Nations are being heard all over the world. The movement known as "Idle No More" is a gathering of like minds and spirits that have had enough. These voices have been ignored for too long.
Legend Of The Jingle Dress And Dance

The legend of the Jingle Dress and the Jingle Dance
Lesson of The Elders - Use Only What is Needed

For decades America has been a "Throw-Away" society. It is time for us to embrace and apply the Lesson of our Elders and cure the illness of wastefulness.
Mother-In-Law Taboo

For many, marriage is the key to happiness, long life, and health. In traditional times of the past, many Native American tribes practiced a way of family life that was meant to preserve this sacred institution.
Native American Ten Commandments

Did you know that in any Native American language there was no word for religion? The ancient wisdom of these ten sacred truths were given as gifts from the Great Spirit and passed down through the generations. For Native Americans these principles were a way of life, not a religion.
Rain Sticks - Soothing Summer Craft for All Ages

The Rain Stick is like a tubular rattle. Traditionally made from cactus, the hollow tube was dried in the hot sun then partially filled with small pebbles, beans, seeds, and small pieces of lava rock. The Rain Stick differs from other ceremonial rattles due to its unique spiral interior.
Sacred Child, Blessed Elder

"Indian people loved their children above all else. They were a special gift from the Creator. They were the promise of a bright and happy future." - Mourning Dove, Salish. 1884-1936
Stereotypes – A Warrior's Response to Bias

A stereotype is born from ideas that turn into beliefs. Theses thoughts invoke within us a feeling, which turns into an attitude. This enters the physical world through action known as discrimination. Points of view differ about what constitutes bias, let the Great Spirit be your guide.
Totem Poles

Totem poles, their symbolic meaning, the peoples who carved them and the Pacific Northwest tribes.
Two Roads Map - Part 1

Intercession is a humble plea in favor of another, a prayer or petition to God in behalf of another. Through vision, Black Elk believed that he had been appointed to be an intercessor for his people. This vision eventually led him to take on the crucial role of leading his people to Christianity.
Two Roads Map – Aligning With Peace

At the dawn of a new year, many of us look for ways to create positive change for our lives. One way is to study the wisdom of the Relatives who came before us. We can use this wisdom to guide us along our journey.
Web 2.0 - Empowerment for Tribal Nations

To those in the digital world, unyielding signal strength, maximum speed, and endless connectivity all add up to power. A larger form of power is found in the relationship with Web 2.0 technologies which transforms our ability to communicate with each other and effect or create change.
Editor's Picks Articles
Top Ten Articles
Previous Features
Site Map
Content copyright © 2018 by . All rights reserved.
This content was written by . If you wish to use this content in any manner, you need written permission.
Contact Jacqueline Olivia Pina for details.