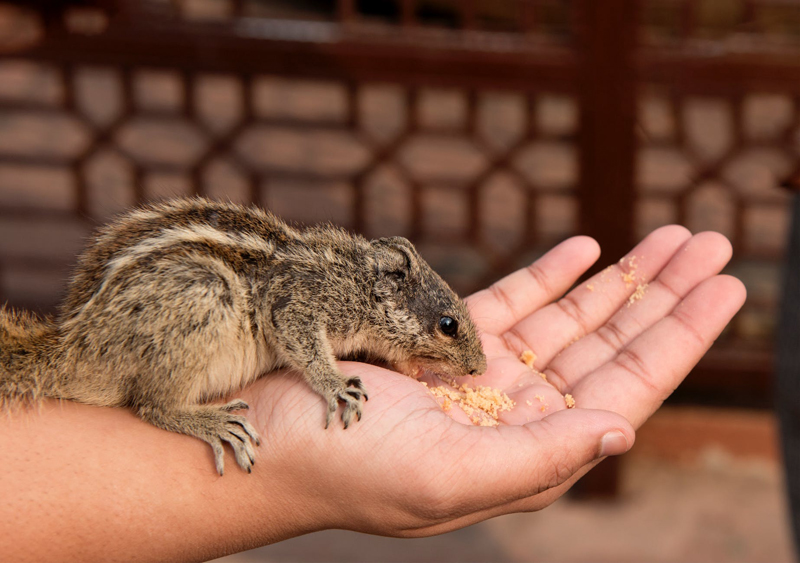 Information and care on the pet rodent.
Capybara - Pet Capybara

A Capybara looks somewhat like a guinea pig but only a whole lot bigger. They can be wonderful exotic pets for the right person. They are semi-aquatic so you must provide a clean pool. You must consider their social needs because they are a social animal. Rodents can be wonderful pets!
Chinchilla - Pet Chinchillas

Pet chinchillas are intelligent, and sweet. Pet chinchillas are reasonably easy to care for. They do need a large, tall cage, with multiple layers. They have an advanced herd social structure. Following a good chinchilla care guide helps the animal reach optimum longevity.
Chinchilla - Food - Treats - Grooming

The chinchilla has special dietary needs; they cannot be fed pellets meant for other rodents or rabbit pellets. Learn about chinchilla food, treats and grooming. They are very different from other animals, some things can kill them, not having certain things can kill them. Learn what these are!
Exotic Pets Found in Dumpsters Still in Cages

A hedgehog found in a dumpster; cage and all. A rabbit tied to a tree, the skin had grown over its collar. How many thousands of innocents must suffer? Animals left starving, no food, no water, stuck in their cages; abandoned when their people moved out. Your talk the talk, will you walk the walk?
Flying Squirrel - Flying Squirrel as a Pet

The pet flying squirrel will form a very strong bond with their human companion; if this bonding begins early. Enjoy the flying squirrel picture he is a cutie with those big sweet eyes that seem to call to you. A very interesting companion indeed!
Gerbil - Pet Gerbils

Learn how to care for the exotic pet gerbil. They are social animals but will fight with each other unless they are from the same family. Pay attention to the type of cage you buy because gerbils are great little scratchers and chewers; and will chew right out of cage.
Gerbil Supplies

How and what to feed a gerbil, what kind of cage for a gerbil, how to choose a gerbil, what kind of bedding material, gerbil food, food dishes that won't tip over, chew sticks to keep teeth worn down, be sure to keep genders seperated, if a gerbil is healthy, and how to bond and train a gerbil.
Guinea Pig - Health Information

How to bond with and train your pet guinea pig, How to groom, and take care of the guinea pigs constantly growing teeth. What antibiotics will kill your guinea pig? Guinea pigs do not perspire learn what temperature is safe for the pet guinea pig. Guinea pig health information.
Guinea Pigs

Guinea pigs, often called a cavy, make an excellent first pet for children. The guinea pig is docile, gentle, and easy to care for. There is a great deal you need to know before acquiring a cavy. There are stringent food requirements. The cage is important because certain cages can cause injuries.
Hamster - Pet Hamsters

A hamster can be a great pet but they can be nippy. Children should be supervised 100% of the time when handling a hamster. This is to protect your child and the hamster. How to house, feed, and care for the exotic pet hamster. There is a follow up article on hamster bonding and health issues.
Hamster Bonding and Health Issues

Learn how to bond with your pet hamster as well as keeping him or her safe and healthy. Handling him or her and playing with him or her will increase both yours and your hamster's confidence. How do you catch a hamster that has escaped?
Patagonian Cavy

The Patagonian Cavy is probably one of the sweetest most gentle of pets you will find. The cavy is a highly social animal and are not a pet for a person that must be gone much of the time. Exotic pet Patagonian Cavies can be trained to use the litter box, leash trained, and more.
Patagonian Cavy - Patagonian Cavies

The Patagonian Cavy is probably one of the sweetest most gentle of pets you will find. The cavy is a highly social animal and are not a pet for a person that must be gone much of the time. Exotic pet Patagonian Cavies can be trained to use the litter box, leash trained, and more.
Pet Mice - Mouse - Mice as Pets

The mouse, or since they are very social, mice are great pets. Pet mice are intelligent and have a sweet nature. Mice are one of the animals that have been domesticated the longest; over 10,000 years. They are an immensely popular pet. Learn how to care for mice as pets.
Pet Rats, Hamsters, Gerbils and Mice

If you or your children want a pet, and perhaps you live in an apartment, what kind of pet should you consider? The rodent could perchance be the pet for any circumstance.
Pet Rats, Hamsters, Gerbils and Mice

Everyone has a differently lifestyle and different circumstances; choosing the right pet can be difficult.
Pygmy Jerboa as a Pet

Information and care on the pygmy jerboa. Video link for the pygmy jerboa, including a video on tiny baby pygmy jerboas. In addition, there are possible breeders and sellers of the pygmy jerboa. Pygmy Jerboa as a Pet.
Rat Supplies

It isn't always easy finding decent rat supplies, examples; a safe cage, healthy food, toys that keep the rat or mouse occupied and happy but still help wear down the incisors. Sometimes you find great rat and mouse supplies in places you wouldn't normally look.
Rat - Pet Rats

Rats are sweet! They are excellent beginner pets for children. Especially, kids during the stage where they need a trusted friend. Young children should be supervised around the rat. The pet rat are a good choice as a pet if you live in an apartment where you can't have a dog, cat, or even a skunk.
Rats – Ratties Perhaps the Perfect Exotic Pets

Are there any exotic pets that could be the perfect pet? Rats or ratties certainly come close. They are sweet, intelligent, gentle, and make a great companion or friend. The rat can also be a trustworthy confidant for a child, teenager, or adult that needs a friend.
Rodent Supplies

Here is the place for safe rodent supplies for your hamsters, mice, rats, guinea pigs, gerbils, chinchillas, hedgehogs, and other rodents including safe cages and accessories.
Rodents - Pet Rodent

Rodents make very interesting pets and are very intelligent, so why not a pet rodent. Consider pet mice, pet gerbils, pet chinchillas, pet rats, pet guinea pigs, Patagonian cavies, or a Pygmy Jerboa as a pet. Rodents are wonderful exotic pets. This article is part of Choose a Pet series.
Starter Pets - For Children

Rodents, including the rat, hamster, gerbil and mouse are increasing in popularity because they require no vaccinations and take up very little space. Many of these pets are given as presents, but please make sure your youngsters are prepared for the responsibility! They are not throw away pets!
The Pet Hamster

Information and care instructions for the pet hamster.
Editor's Picks Articles
Top Ten Articles
Previous Features
Site Map
Content copyright © 2018 by . All rights reserved.
This content was written by . If you wish to use this content in any manner, you need written permission.
Contact BellaOnline Administration for details.