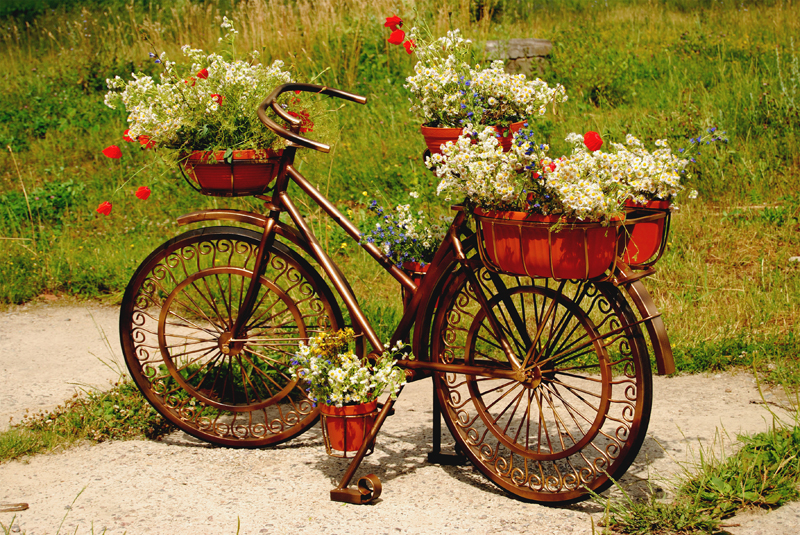 Food gardening in containers is simple when you obey a few rules and work with Mother Nature. Good yields are guaranteed if you follow best practices and advice from all sorts of sources. The choice o
Herb Tea – Grow your Own

Most of us enjoy a cup of herb tea now and then, if not every day. It is so easy to grow your own herbs and most can be used fresh or dried. When growing your own you can also make your own special concoctions. Here are instructions for growing, harvesting, drying and brewing your own herb teas.
Herbs - an Introduction

Fresh herbs are a great addition to almost any dish, but they can be hard to find and expensive to buy. So why not grow your own? Herbs are among the easiest plants to grow in containers. Here are tips on growing some of the best culinary herbs for your kitchen garden.
Herbs in Action - GINGER

A wow! in the kitchen, a wow! in the garden and a wow! for your health, Ginger is easy to grow and especially suited to containers. Pretty plants, useful in many ways and very good friends with many herbs or spices though go best with chillies and garlic. Do yourself a favour and grow some soon.
Herbs in Action - BASIL

Do you grow BASIL? And what do you want to do with it? Use it for foodies and kitchen treats? Use it for garnishes and cocktails? Use it for colour and prettiness in your containers? Use it in your home? – Yes please! Well there are many varieties, we are spoilt for choice so choose yours now!
Herbs in Action - BAY LAUREL

Bay leaves are an important part of many wonderful sauces and main dishes, and nothing can beat the flavor and aroma of fresh-cut Sweet Bay leaves. The tree is easy to grow and does very well in containers – here is all you need to know to grow your own fresh Bay leaves!
Herbs in Action - CHILLIE PEPPERS

An herby bush or is it bushy herb? – Chillies are favourites in any garden or kitchen. On their own or not, this wonderful herb is easy to eat, easy to use and it's easy to harvest your own organically grown crop right on the balcony! And for choice we're spoilt, from nought to meltdown in seconds
Herbs in Action - CILANTRO

Cilantro or Coriander - it doesn't matter what you call it. This versatile herb is easy to cultivate, tastes good in cooking, leaves, stalks and seeds are harvested and it even chases away flies and mosquitoes. It's a sunshine herb and likes cool weather planting. Grow some - you will be pleased!
Herbs in Action - CURRY PLANT

Grow something different - grow a Curry Plant. It's an aromatic herb, looks good, repels bugs and deer, smells spicy and sweet and like curry (nice I say) and while its effect in the kitchen is mild, the growing of this unusual herb is easy, low maintenance and low on water requirements too. Try!
Herbs in Action - LAVENDER

Many plants and herbs share their fragrances readily with us which makes our container gardening efforts well worth it. Besides the many other uses of Lavender, the pleasure we get from this exquisitely scented group of plants makes them a real garden favourite! Plant a container soon, it's easy.
Herbs in Action - MINT

Mint, a most useful herb and amongst our favourites is so easy to grow and use that it makes all the effort a real pleasure! Made a Mint Julep recently? Had some mint sauce with your roast lamb? Enjoyed a cup of refreshing Peppermint tea? It's all calming and healthy; and it adds fragrance too.
Herbs in Action - TARRAGON

For pleasure and fragrance, for taste tingles and recipe zing and for easy if caring growing in containers, you won't go too wrong with French Tarragon. This 'phat' feathery green herb is a wonderful addition to your herb collection so plan to grow some soon.
Ideas with Fresh Cut Herbs

Here are some ideas for instant uses for your cut herbs in your home. You know about them, you may have thought about them but do you do them? One of the simplest 'gardens' you can have is to display a cut selection of your favourites in glasses on the kitchen window sill for a daily dose of calm.
Spice Pots - ANISEED

Some spices suit containers better than others...and ANISEED is one of them. Instead of 'fresh off the supermarket shelf' spice, grow your own this time! Want to 'stir up some bodily lust?' Ward off the evil eye? Flavour a medicine? Catch mice? Keep away a nightmare? Cure hiccups? grow some Anise!
The Promise of Herbs

The Promise of Herbs is fulfilled daily as we grow them or add them to our cuisines even if it is just a sprig of parsley somewhere! Herbs can do so much especially when it comes to healthy lifestyles and mindsets. What herbs are you growing right now? How does one choose I wonder? Grow some please!
Wheatgrass in Containers

We are surrounded by miracles in life but very often we just don't see them or realise that they are there for the taking! Here is your chance – grow, juice and then drink green wheatgrass juice and invite your own health miracle into your garden space and your life. Add it to your smoothies too!
Editor's Picks Articles
Top Ten Articles
Previous Features
Site Map
Content copyright © 2018 by . All rights reserved.
This content was written by . If you wish to use this content in any manner, you need written permission.
Contact Lestie Mulholland for details.