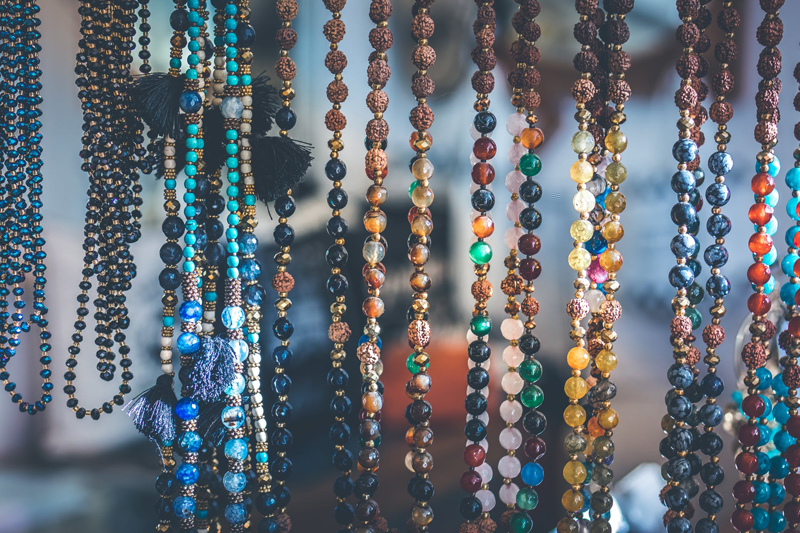 Beadwork Information
3 Loom Strip Patterns

By request, here are 3 patterns for looming that can be repeated for long strips, a red, white and blue pattern, a rainbow chevron pattern and an argyle pattern as well blank graph paper.
A Daisy Pattern from a Photo

A large daisy pattern in brick or peyote made from a photograph converted using BeadTool4
A Muse Ink
[offsite link]
Incredibly detailed amulet bag patterns for sale. Check them out!
A Rose Pattern

A pattern with a nicely small palette for a rose amulet bag in 2 drop peyote.
AB Art Glass and Beadwork
[offsite link]
Lovely Peace patterns
Ann Benson´s Page
[offsite link]
Ann Benson, author of several books has this page with patterns, and projects. If you sign the guest book she sends you a link to a free pattern monthly.
Aunt Molly´s Beadstreet
[offsite link]
Alphabets, runes, micro patterns, links and projects.
Barbara Elbe
[offsite link]
Barbara Elbe´s page, free patterns, plus information her books.
Bead Dancing
[offsite link]
Patterns, and a nice list of links.
Bead Like a Pirate Ideas

Some ideas for pirate beading for International Talk Like a Pirate Day 2011
Bead Like a Pirate!

A couple Jolly Roger patterns in honor of International Talk Like a Pirate Day
Bead-Patterns.com
[offsite link]
Lots of designers, buy and print immediately. Also several free patterns.
Beadnik´s Page
[offsite link]
Wonderful Projects and Patterns
Beadsculpt.com
[offsite link]
Lisa DeFehr´s wonderfully whimsical page, with information on getting her book, Bead Sculpture Bugs & Dancing Frogs
Beadtown
[offsite link]
several lovely free patterns. Check out the patriotic earrings! PDF format
Beadwork at BellaOnline Index -Earrings, Bracelets and Necklaces

Index of the earring, necklace and bracelet patterns and projects on this site
Beady Boop!
[offsite link]
Free patterns, books, just absolutely incredible work. Intricate and lovely peyote,loom and brick patterns
Beady Eyed Women
[offsite link]
Wonderful tiny pouches and a free pattern.
Blessed Beads
[offsite link]
Several free patterns from this full service beadstore.
Book Review- The Big Book of Beading Patterns

A review of the Big Book of Beading Patterns, a new book full of seed bead patterns for brick, peyote,square stitch and herringbone.
Brick Stitch Pumpkin Pin Pattern

A pumpkin pin pattern done in brick stitch with 4 variations and a blank pumpkin so you can graph your own jack-o-lantern pin
Brick Stitch St. Patrick's Day Pin Patterns

Three patterns for brick stitch pins that can be worn to celebrate Saint Patrick's Day
Brick Stitch Variations

Beading in brickstitch and the different methods for doing it.
Brick Stitched Peacock Pendant

A pattern for a brick stitched pendant that has been frequently requested
Brick Stitched Tattoo Bracelet

An easy bracelet made up of brick stitched motifs. If you can make brick stitched earrings, you can make this bracelet.
CarvingPatterns.com
[offsite link]
Good designs for applique work
Celtic Knot Faux Split Loom Necklace

A celtic knot necklace in a faux split loom style, it´s actually done in odd count peyote!
Chicken Earrings

Very cute chicken earring or pin graphs
Circle Motif - Seed Beads


A simple circle motif made out of seed beads that can be used for earrings, pendants or embellishments
Cowboy Boot Pattern- shaped brick stitch

A little pattern for a brick stitched cowboy boot that would make cute earrings or a nice pin.
Diagonal Blocks Bracelet

An elegant and deceptively simple flat peyote bracelet.
Dragon pattern

A pattern for a dragon done in only a few colors.
Dragonfly Amulet Pattern

A peyote stitched pattern for a dragonfly amulet bag
Dreamer Bracelet Patterns

Odd count peyote bracelet patterns that simply say "Dreamer", created for John Lennon's 70th Birthday, October 9, 2010
Dressy Brick Stitch Earrings

Some dressy earrings in brick stitch and a blank graph to design your own.
Earring Advent Event - Christmas Eve

Twas the night before Christmas.. more earring patterns
Earring Advent Event - Day 9 - 13

More earring patterns for Earring Advent.
Earring Advent Event - Days 4 -8

More earrings for the earring advent. 25 days of earrings!
Earring Advent Event - It's Christmas!

Merry Christmas Everyone. The last day of the Earring Advent Event
Earring Advent Event - Penguins


A penguin earring pattern
Earring Advent Event - Snowflakes


Pretty little brick stitched snowflake earrings.
Earring Advent Event Days 19-23

More earring patterns!
Earring Advent Event- Days 14-18

More Earrings for the Earring Advent Event, starting with stockings this time.
Easter Eggs and Bunnies Pattern

Free brick stitch patterns for Easter eggs and bunnies with blank egg graphs to decorate your own flat brick stitch eggs for Easter earrings.
Graphing Patterns -small repeats in peyote

An article about how to graph small motifs at different angles with free coffee themed patterns and blank graphs.
Halloween Free Patterns

Links to various Halloween themed patterns around the net.
Hamsa pattern and blank graph

The hamsa or hamesh hand is used in many cultures as an amulet for luck. Here's a couple brick stitched patterns and a blank graph for designing your own.
Hexagonal Brick Stitch Pins

Simple pins that work up very quickly for gifts including graph paper.
How to graph tessellations in seed beads

A tutorial for graphing tessellations with seed beads on peyote or brick graph paper.
I Voted Pin Patterns

Do you like the "I Voted" stickers? Stitch yourself up a brick stitched "I Voted" pin using one of these 3 patterns in U.S.A. flag colors or design your own.
I-bead.com
[offsite link]
GREAT mini patterns
Janet Beads
[offsite link]
Janet Davis´s gorgeous work and patterns. Definately worth a look.
Jolly Roger Earring Patterns

Talk Like a Pirate Day is September 19. Here are some pirate brick stitch earrings you can make to wear for fun.
Just for Fun Peyote Patterns

Some fun flat even count peyote strip patterns for bracelets or bookmarks.
Knotwork Patterns

Some peyote and brick knotwork patterns for you to enjoy.
Kristi Daniel´s Patterns
[offsite link]
A lovely heart pattern among others.
Let it Snow Pt 2

Some snowflake patterns I made up for you.
Let it Snow Pt 3

The third installment of my snowflake graphs. A bracelet graph using the snowflakes from the last article, and graph paper to graph out your own.
Little Beaded Flipflops

Brick stitch or peyote to make tiny bead flipflops to use on accessories.
Magic Bead Patterns

Magic Happens bracelet patterns, and cute little witch earrings
Marcie´s Manor Beading
[offsite link]
Gallery with some instructions. Nice eyecandy!
Mini Alphabet for Square Stitch or Loom

A small alphabet that can be worked in square stitch or on a loom and is a good size for friendship bracelets. The alphabet is only 5 beads tall.
Mini Amulet Bags

A pattern for a cute and small amulet bag with tips on construction.
Mom's Angel

A quick and simple 3 color angel pattern
Morticia´s Magical Bead Tour
[offsite link]
Incredibly colorful and lovely patterns based off is talented designers paintings
Naughty or Nice Bracelets

A pair of bracelet patterns in odd count peyote stitch, one says Naughty and one says Nice.
Onigiri Brick Stitched Earrings

Onigiri are rice balls. This is a pattern to make brick stitched rice ball earrings.
Page 2- Wizard Bracelets

The patterns!
Pat Savu
[offsite link]
Simply amazing and inspiring work and patterns
Peacock Geometric Patterns

Peacock pattern in brick or peyote.
Peyote Alphabet Pattern

A free alphabet pattern by frequent request.
Pink Ribbon Patterns for peyote or brick stitch

Pink ribbon awareness patterns in peyote and brick stitch in several different sizes and styles.
Pirate Bracelets

Even count flat peyote bracelet patterns for Talk Like a Pirate Day as well as a couple cute earring patterns.
Polar Beads
[offsite link]
This Alaskan beader has both free patterns and patterns for sale on her site. Fun and colorful!
Quick and Easy: Brick Stitch Earring Patterns

An even dozen easy brick stitch earrings, including an American flag, an alien, and some flowers.
Right Angle Weave Heart Pouch

A sparkly right angle weave heart shaped pouch made from fire polished crystals.
Saint Patrick's Day Patterns

2 bracelet patterns in odd count peyote and 2 pin patterns in brick stitch for Saint Patrick's Day. A way to work a little beaded green into your outfit!
Shala´s Beadwork
[offsite link]
My patterns page. In the process of being updated.
Shanigan´s Shenanigans
[offsite link]
Jeanette Shanigan´s home page. Patterns for sale and free downloads.
Silverhill Design
[offsite link]
Very lovely patterns for purchase. Requires Adobe Acrobat Reader
Size 15/0 Delica Beads

About the new size 15/0 Delica Beads
Strawberry Earring Pattern

Cute brick stitched strawberry earrings for summer. There are two variations, plain or chocolate covered.
Suzanne Cooper
[offsite link]
Suzanne Cooper´s webpage, free patterns, as well as information about her books, pattern packets, and kits.
Tattoo Bracelet Patterns

Patterns for the Tattoo Brick Stitched Bracelet
Tessellated Skull Pattern

A pattern for a quick tessellated skull pouch necklace for Halloween
The Bead Co-op
[offsite link]
A pattern selling site with free downloads. Check it out!
Two Tessellated (sort of) Christmas Patterns

Two free peyote patterns for Christmas, small palettes.
Wizardy Bracelets

Square stitch Wizard bracelets
Links marked with the [offsite link] designation point to websites not associated with BellaOnline.com. BellaOnline.com is not responsible for the material found there.

Editor's Picks Articles
Top Ten Articles
Previous Features
Site Map



Follow @shala%5Fbeads
Tweet


Content copyright © 2018 by . All rights reserved.
This content was written by . If you wish to use this content in any manner, you need written permission.
Contact Shala Kerrigan for details.