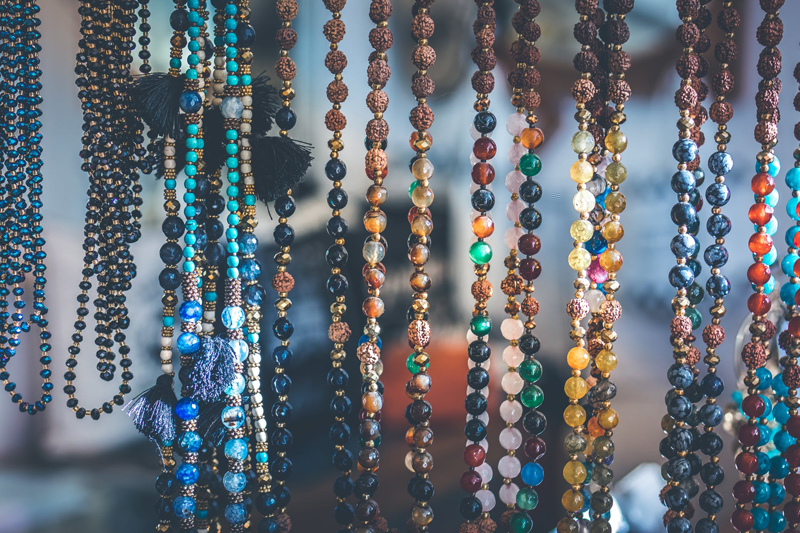 Beadwork Information
5z´s Beadstore
[offsite link]
This store carries the Olaf books from Australia and is located in the US.
All Seed Beads
[offsite link]
Exactly as described. All they sell is seedbeads.Lots of colors and sizes though.
Arizona Bead Company
[offsite link]
Check out this marvelous supplier for a nice selection of crystals, silver and a great special. Wholesale.
Bead Babe
[offsite link]
Low prices on great assortments. Absolutely amazing!
Bead Cats
[offsite link]
Absolutely one of the best sources for vintage beads size Size 16°-24°, as well as pressed glass from thier own factory.
Bead Merchant
[offsite link]
Oregon based retail store. Check out the Good Luck Dolls and collector beads.
Bead Studio
[offsite link]
This new store has some lovely stone pieces and vintage bead types I haven´t seen in many other places.Also carries a lovely assortment of charms including runes.
Beadstore.com
[offsite link]
Nice selection of beads. Lots of different types.
Beyond Beadery
[offsite link]
Some of the most lovely pressed glass I´ve ever seen, and incredibly fast service.
Blessed Beads
[offsite link]
Blessed Beads offers silk thread and has one of the largest lampwork and pattern sections I´ve seen on an online catalog.Many designers, and she offers free patterns for download.
Bumble Beads
[offsite link]
Nice looking beadstore, with a free pattern! This month a green bracelet for St Patrick´s Day
Charlene´s Beads
[offsite link]
This shop carries over 800 colors of seedbeads, and has made flesh tones easy for you be creating flesh tone assortments!
Chimera Glassworks
[offsite link]
Lovely, unique handmade beads, not all glass, there are some gorgeous metal beads on the page. Including copper!
Choosing a bead store

It's hard to choose between buying beads in a brick and mortar store or online- here are some thoughts about it.
Dreamweaver Beads
[offsite link]
A lovely website for a beadstore. They carry some very pretty charms.
Eclectica Beads
[offsite link]
Reproduction beads, absolute incredible, they use vintage glass and vintage molds to make these gorgeous flowers and leaves.
Empyrean Beads
[offsite link]
Vintage and modern seed beads, great source for vintage 2 holed beads and nailheads.
Fire Mountain Gems
[offsite link]
mostly wholesale quantities, free catalog. Take a look!
Foxden Designs
[offsite link]
A beadstore with lovely BeadDangle kits and a nice selection. Well laid out and easy to navigate.
Halstead Bead Inc
[offsite link]
Wholesale only, precious metal beads and findings, and glass beads.
Klew Expressions
[offsite link]
Klew´s Beadstore, gorgeous polymer clay beads.
No Easy Beads
[offsite link]
Tutorials, gallery, beadwork, kits and beads for sale.
Out on a Whim
[offsite link]
Wonderful beads, wonderful service, and gorgeous kits, as well as a wonderful free classroom with bead projects.
Rings and Things
[offsite link]
Wholesale, lots of trade beads and supplies. Wonderful!
Shipwreck Beads
[offsite link]
Wonderful Seattle area store that carries too many kinds of beads to even start to list.
Sun Country Gems
[offsite link]
An online beadstore with a great collection of gemstone beads! hmm... malachite..
Links marked with the [offsite link] designation point to websites not associated with BellaOnline.com. BellaOnline.com is not responsible for the material found there.

Editor's Picks Articles
Top Ten Articles
Previous Features
Site Map



Follow @shala%5Fbeads
Tweet


Content copyright © 2018 by . All rights reserved.
This content was written by . If you wish to use this content in any manner, you need written permission.
Contact Shala Kerrigan for details.