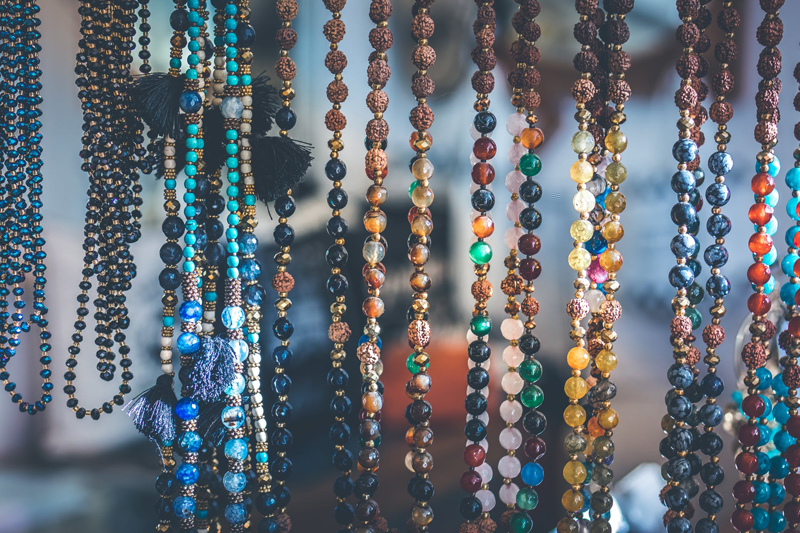 Beadwork Information
5R Chain

A right angle weave adaptation that makes a nice chain with curves like rickrack.
A Stylised 3 d Butterfly

A 3 d butterfly in single needle right angle weave and peyote.
An Elegant Bead and Chain Bracelet

Instructions for a gorgeous bracelet designed by Teri Packel.
Aunt Molly´s Beadstreet
[offsite link]
Alphabets, runes, micro patterns, links and projects.
Basic Beading - Even count flat peyote

Illustrated article for how to do flat even count peyote stitch
Basic Beading : Brick Stitch Earrings

Illustrated article for how to do brick stitch earrings.
Basic Beading- How to Follow Peyote Patterns

A tiny tubular peyote bead and a tiny flat peyote bead illustrate how to follow peyote patterns.
Bead Netted Knitting Needles

Handmade knitting needles or hair sticks decorated with beaded netting in seed beads.
Beadaroo
[offsite link]
One of the absolute best tutorials I´ve seen for single needle right angle weave, and some gorgeous wire work.
Beaded Beads Inspired by Monkey's Fist Knots

A pair of earrings inspired by Monkey's Fist knots.The balls can also be used as beaded beads in other projects.
Beaded Bottle Cap Necklaces

These are easy to make, and are a wonderful starter project for learning bead embroidery.
Beaded Hair Clips

Strung beads attached to a snap clip make a great pirate accessory, and are so quick to make.
Beaded Open Daisy Chains

Basic instructions for a beaded open daisy chain with little leaf accents that works up very fast.
Beaded Thumb Drive using Preciosa Seed Beads

Instructions for beading a sleek thumb drive using different types of Preciosa Ornela seed beads.
Beaded Toggle Clasp

A pretty beaded toggle clasp with a flat ring and a simple peyote toggle
Beadnik´s Page
[offsite link]
Wonderful projects and patterns.
Beads By Mail
[offsite link]
free projects, including a lovely ladder choker
Beadstringing Projects By Patrice
[offsite link]
Several projects, nice easy to navigate page.
Beadwork at BellaOnline Index - Graph Paper and Stringing Projects

Index of the stringing and wire projects on this site, and of the graph paper on this site.
Beltana´s Beads
[offsite link]
Tutorials for spiral rope, brick stitch, peyote, tubular netting and loomwork. Well illustrated.
Button Bunting Necklace

Bunting is very popular for decoration and jewelry right now. Here are instructions for a necklace made with minimal sewing.
Cecile´s Wheel Pattern
[offsite link]
a lovely delicate wheel pattern, one of several tutorials on this site.
Cell Phone Charms

A quick easy project for making cell phone charms, explains how to make wrapped loops in head pins.
Checker Beads
[offsite link]
Anne Checker´s great page, LOTS of projects. Including peyote people!
Chris Prussing´s Right Angle Weave Page
[offsite link]
She´s the author of several great articles on the subject, as well as being the leader of the sometimes controversial, always fun BeadHell list.
Delicate Lace Heart

Instructions for a little lace heart motif made from seed beads.
Diamond Chain

Instructions for a right angle weave variation that makes a lovely chain.
Domino Pendants

Making easy pendants with dominoes without having to drill any holes.
Easy Bead Tassels

A seed bead and wire tassel that can be used as a necklace focal point or for an ornament.
Easy Colorful Friendship Bracelets


Simple colorful friendship bracelets that are easy and inexpensive to make.
Even Count Peyote Ring

Instructions for making an even count flat peyote ring.
Faux Gold and Sapphire Ring made out of beads

My beaded interpretation of Princess Diana's gorgeous sapphire and diamond engagement ring, made completely out of beads.
Forget-Me-Not

A delicate flower made from seedbeads.
Fringed Ear Wraps

A dramatic fall of fringe from these brick stitched ear wraps make them a sparkling accessory to wear with dressy clothes.
HGTV´s Instructions for Paper People Beads
[offsite link]
This is where to find the instructions to make the paper people beads. Just adorable!
How to Fake a Stacked Bracelet with Memory Wire

A tutorial for making a fake stacked bracelet arm candy look using memory wire and beads.
How to Make a Tiny Rose

A tiny rose beaded out of Japanese size 15 seed beads and put on a ring to make a miniature corsage for your finger.
How to make beaded daisy chains

Daisy chains are one of the most classic and simple types of chains to make. In this article, I'll explain how to do a chevron style daisy chain.
How to Make Bubble Wands

Easy to make bubble wands for gifts or fairs
How to make feather earrings


A pair of earrings made out of peacock herl and peyote beadwork with instructions for wrapping feathers with wire.
How to tie slip knots a.k.a. sliding knots

Learning to tie slip knots / sliding knots for quick leather cord necklaces
How to Wrap a Stone
[offsite link]
Emily Hackbarth´s wonderful article and diagram on how to wrap rocks with beads.
Hugs and Kisses Bracelet

A 2 needle cross woven bracelet that's adaptable and quick to make.
Illusion Earrings

Fast floaty illusion earrings
Ivy bowl with bead net collar

How to make a lacy beaded collar for an ivy bowl
Janie´s Embellished Beads
[offsite link]
Wonderful tutorials for embellished beaded beads
Little Beaded Shamrocks

Little beaded shamrock motifs
Lucite Beaded Corsage

An easy to make corsage inspired bracelet using Lucite flower beads and beads from your stash.
Macaroni Earrings

How to make really cute dangle earrings with macaroni
Making Beads from Toys

Some ideas to use some unexpected objects in beading.
Maria Oldring
[offsite link]
This page has some of the loveliest projects on the web. I love her hearts chain!
Marie-Laurence Hémard´s webpage
[offsite link]
lots of pretty lace projects
Marie-Laurence Hémard´s webpage
[offsite link]
lots of pretty lace projects
Melting Beads

How to make suncatchers with plastic beads, a great project to do with children.
Memory Wire Charm Bracelets

Using memory wire and charm sets, you can make a nearly instant charm bracelet as a gift.
Mini Beaded Banner

A mini Jolly Roger banner for Talk Like a Pirate Day 2010, but also a blank graph to design your own banner for any occasion. Made with size 8 beads, it stitches up quick.
Miniature Beaded Pincushion

Instructions for a cute miniature pincushion in peyote stitch.
Netted Barrel Shaped Beaded Bead

A tutorial for an easy to make barrel shaped bead done in layers of horizontal tubular netting.
Netted Cabochon Bezels

How to make a simple netted bezel for a cabochon.
Netted Handflower

A Vertical Netted Handflower bracelet
Netted Twin Bead Tubes

A simple netting techniques with Twin two-hole seed beads makes a nice tube to use other in projects.
No Easy Beads
[offsite link]
Tutorials, gallery, beadwork and kits for sale.
Odd count bracelet with a twist

An odd count peyote bracelet project with twisted loops, made in size 8 and size 11 seed beads.
Odd Count Peyote Ring Graph

A simple odd count ring with a blank graph for customizing.
Out On A Whim
[offsite link]
Wonderful projects with really clear instructions and diagrams
Peyote Stitched Beaded Hairstick

A quick explanation of how to bead around things.
Photo Jewelry

Photo jewelry is so easy to make and is a wonderful way to remember vacations or make a gift for a loved one.
Picot Netted Ornament Cover

Combining right-angle weave, netting, and picots creates a cover for a small ornament that works up fairly fast.
Pixel Beading- Cubes in square stitch

How to bead pixel art using cube beads and square stitch.
Porcupine Quill Earrings

How to use porcupine quills in beadwork.
Potawatomi Chevron Chain

With the current chevron trend, this classic chain pattern makes a nice bracelet. Instructions and graph paper.
Potawatomi Weave

Instructions for doing the Potawatomi Weave daisy chain variation.
Quick Beaded Flowers

A tutorial for little flowers that are quick to bead to use as embellishments.
Record Bracelets

How to make beaded bracelets out of old records
Resin Casting

A short overview about casting resin cabochons
Resin Casting with Inclusions

How to cast resin with inclusions.
Right Angle Weave Photo Pendant

A quick to stitch right angle weave bezel for a photo pendant made with squares of glass.
Right Angle Weave Rivoli Bezel

A 2 needle right angle weave bezel for a 14 mm rivoli.
Rose Choker

A rose choker using horizontal netting, brick stitch and square stitch
Ruby´s Beadwork
[offsite link]
Great site with a BUNCH of tutorials,look on this site for a review of Ruby´s book.
Seed Bead Fractals

A pair of delicately fringed earrings made by using a simple fractal out of seed beads.
Semi Circle Earrings

Earrings made of semi circles done in right angle weave.
Shamrock Motif - seed beads

A nice sized shamrock motif made of size 11 seed beads.
Shrinky Dink Rose Bracelet

An easy, fun bracelet made with shrink plastic, wire and beads
Silver Rose Necklace

A quick and easy elegant strung necklace made from pearls and silver.
Simple Beaded Friendship Bracelet

A beginning micro-macramé project using size E beads and embroidery floss.
Small Beaded Bead

This tiny disk shaped beaded bead is very quick to make and will work nicely as a small pendant or earrings, or in larger projects.
Snowflake Patterns

How to graph a snowflake for brick stitch or peyote with patterns and graph paper
Sparkly Beaded Hair Bobbles- Cross Weaving

Hair bobbles are the elastics that have a bead on each side. Here's a way to make a pair of very sparkly hair bobbles using a cross weaving technique.
Spring Earrings

Headpin and pressed glass flower earrings.
Square Stitch Friendship Pins

A quick, fun project using small safety pins and square stitch.
Stringing an Adjustable Choker

How to make a simple strung adjustable choker using beading wire and chain, a great way to highlight a special bead.
Suzanne Cooper
[offsite link]
Suzanne Cooper´s page, check out her classroom for several great projects and instructions.
Teddy Bear Pouch


A simple netted pouch design. Great for kids, gifts, and craft shows.
Triangle Ornament

A deceptively simple ornament made using size 11 seed beads and basic even count tubular peyote.
Tubular Horizontal Netting

How to do tubular horizontal netting.
Tug-A-Bead
[offsite link]
A lovely barefoot sandal
Turkey Mama´s Polymer Clay Rock Purses
[offsite link]
Instructions for making a purse/amulet using a rock to mold polymer clay around. Well written!
Twin Bead Bracelet Instructions

Instructions for a bracelet design formed of hexagons using two sizes of seed beads and the new Preciosa Twin Beads.
Wine Charms!

An overview of ideas for wine charms, by popular request at long last!
Wire Beaded Bangle

Instructions for making a simple bangle bracelet from wire and beads.
Working with Vintage Cabochons

Recently I received some beautiful vintage cabochons. Read about how I created a bracelet using 3 of them.
Wrap Bracelet Instructions


How to make a trendy wrapped bracelet using rattail cord, thread, crystals and pearls.
Yasutomo´s Free Projects
[offsite link]
Click on paper beads, and check out the template for the paper people beads.
Links marked with the [offsite link] designation point to websites not associated with BellaOnline.com. BellaOnline.com is not responsible for the material found there.

Editor's Picks Articles
Top Ten Articles
Previous Features
Site Map



Follow @shala%5Fbeads
Tweet


Content copyright © 2018 by . All rights reserved.
This content was written by . If you wish to use this content in any manner, you need written permission.
Contact Shala Kerrigan for details.